Ecograph T RSG35
Universal Graphic Data Manager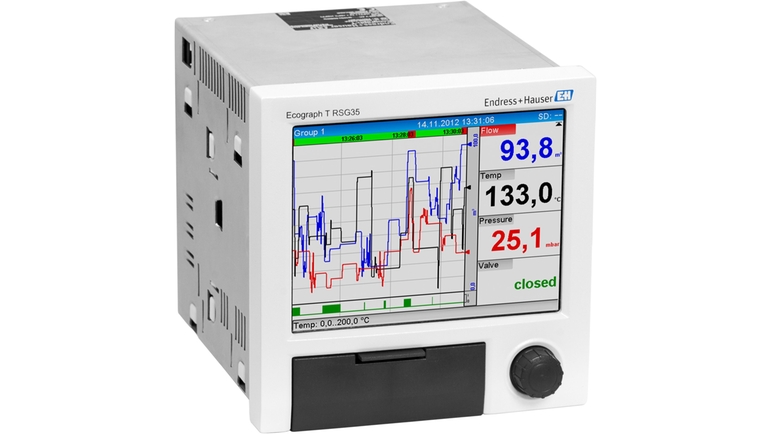 Paperless recording, visualization and monitoring of the process values at the same time
Safe and complete recording and visualization of all process sequences. Demands on process monitoring and data recording are becoming more and more complex. Because every measurement value counts, the Universal Data Manager Ecograph T RSG35 records, visualizes and monitors all analog or digital input signals. The unit is easy to use and comes with features to save costs and simplify data acquisition. Due to its variety of communication possibilities a simple system integration is possible.
Enkle produkter

Enkelt å velge, intallere og bruke
Tekniske egenskaper
Enkelhet
Standardprodukter

Pålitelige, robuste og lette å vedlikeholde
Tekniske egenskaper
Enkelhet
High- end produkter

Høyst funksjonelle og praktiske
Tekniske egenskaper
Enkelhet
Spesialprodukter

Designet for krevende applikasjoner
Tekniske egenskaper
Enkelhet
FLEX utvalget
Tekniske egenskaper
Enkelhet

Fundamental utvalg

Møter dine grunleggende målebehov

Tekniske egenskaper

Enkelhet

Lean utvalg

Håndter henkelt dine kjerneprosesser

Tekniske egenskaper

Enkelhet

Extended utvalg

Optimaliser prosessene dine med innovative teknologier

Tekniske egenskaper

Enkelhet

Xpert utvalg

Mestre de mest utfordrende applikasjonene dine

Tekniske egenskaper

Enkelhet
Spesifikasjonene kort oppsummert

Input

12 analog (max) (U, I, TC, RTD, frequency, pulse)
6 digital (max)

Output

6 relays (max)
1 transmitter power supply

Display

TFT 5.7" colour graphic display

Power supply

100…230 V AC +/-10%
24V (-10%, +15%) AC/DC

Storage/Recording

Internal memory
SD card
USB flash drive

Storage/Recording

internal memory
SD card
USB flash drive
Loading alternative products
Hurtigvalg
Velg ett av våre foreslåtte alternative
individuell konfigurasjon
Fortsett for å velge blant alle mulige alternativer
Ekstra komponenter

Fordeler

Versatile: up to 12 universal inputs record a wide range of measuring signals

Clear layout: 5.7" TFT screen for displaying measured values in a maximum of four groups, with digital, bar graph and curve display

Safe: reliable data archiving with internal...
Bruksområde

The Ecograph T is the right solution for a wide range of applications such as:

Quality and quantity monitoring in the water and wastewater industry

Temperature monitoring in metal working

Monitoring of processes in power stations

Displaying and...
Dokumenter / håndbøker / programvare
Tilbehør / reservedeler
Nr

13

Order code

51009211

Terminal strip 6 pole FMC1,5/6-ST-3,5

for analog input

Nr

13

Order code

71037363

Terminal strip 9 pole FMC1,5/9-ST-3,5

for digital input on power supply board

Nr

13

Order code

71037408

Terminal strip 3 pole FKC2,5/3-ST-5,08

for relay 1 + 2 (two way)

Nr

13

Order code

71037410

Terminal strip 4 pole FKC2,5/4-ST-5,08

for relay 2+3 and relay on digital I/O board

Nr

13

Order code

71037411

Terminal strip 6 pole FKC2,5/6-ST-5,08

for relay 4+5+6 on power supply board

Nr

13

Order code

71123475

Terminal plug 3pole "N L PE" pitch 5.08

for power supply RSG30: from unit No. DB001004267 orange coloured connector

Nr

18

Order code

XPR0007-B2

Nr

18

Order code

XPR0007-B3

Power supply 100-230VAC(+/-10%)

Nr

4

Order code

XPR0007-A2

Display TFT 5,7" VGA + ribbon cable

Nr

4

Order code

XPR0007-A3

Software RSG35 (release code) XPR0009

Field Data Manager Software MS20

Visualization software and database for visualization of historical data like measured values, calibration or configuration. Manipulation protected SQL database, graphical visualization, tables for measured values, alarms or events, online help, user administration, Automatic read out of device data. Automatic data export in various formats or in secured format for backup or reduction of database. Note: The version FDM essential only supports RSG30, RSG35, RSG40 as well as RSG45 and has a restricted functionality.

Accessories Datamanager RXU10

Memorycard SD 1GB neutral