1-channel transmitter
Liquiline CM14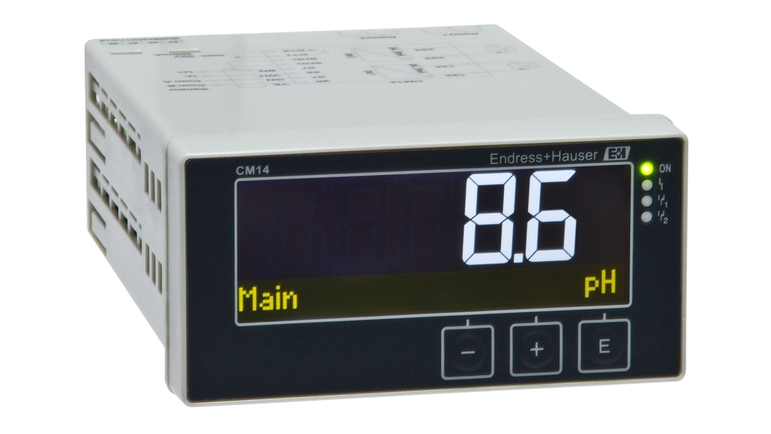 Compact panel device for the food, power, water and wastewater industries
Liquiline CM14 is a basic transmitter that offers all that you need to run a standard measuring point. It fits in the common cabinet cut-outs and is easy to commission thanks to Memosens digital technology. The Memosens hot plug and play concept allows you to quickly install and configure your digital pH/ORP, conductivity or dissolved oxygen sensors. Liquiline CM14 is compact, easy-to-operate, and cost efficient.
Enkle produkter

Enkelt å velge, intallere og bruke
Tekniske egenskaper
Enkelhet
Standardprodukter

Pålitelige, robuste og lette å vedlikeholde
Tekniske egenskaper
Enkelhet
High- end produkter

Høyst funksjonelle og praktiske
Tekniske egenskaper
Enkelhet
Spesialprodukter

Designet for krevende applikasjoner
Tekniske egenskaper
Enkelhet
FLEX utvalget
Tekniske egenskaper
Enkelhet

Fundamental utvalg

Møter dine grunleggende målebehov

Tekniske egenskaper

Enkelhet

Lean utvalg

Håndter henkelt dine kjerneprosesser

Tekniske egenskaper

Enkelhet

Extended utvalg

Optimaliser prosessene dine med innovative teknologier

Tekniske egenskaper

Enkelhet

Xpert utvalg

Mestre de mest utfordrende applikasjonene dine

Tekniske egenskaper

Enkelhet
Spesifikasjonene kort oppsummert

Input

Output / communication

Ingres protection

Front IP65 , NEMA 4X, Body IP20
Loading alternative products
Hurtigvalg
Velg ett av våre foreslåtte alternative
individuell konfigurasjon
Fortsett for å velge blant alle mulige alternativer
Ekstra komponenter

Fordeler

Saves space, saves money: Good price-performance ratio and small footprint – perfect for skids.

Easy to operate: Plug & play with pre-calibrated Memosens sensors.

Reliable and safe measurement: Memosens technology offers digital signal transmission and...
Bruksområde

The Liquiline CM14 panel transmitter is suitable for all applications in non-hazardous areas, for example in these industries and their utilities:

Food & Beverages

Power & Energy

Water & Wastewater

Liquiline CM14 features the following protocols and...
Dokumenter / håndbøker / programvare
Tilbehør / reservedeler
Terminal plug-in 3pol.for power supply

Ecograph/Memograph/S + Alphalog from unit No.410297XA RIA45, grey coloured connector

Terminal strip 4pole FMC1,5/4-ST-3,5

Memograph M for analog output (on digital I/O board) RIA45 for analog input non Ex (terminal x1,x2,x3,x4 + x5,x6,x7,x8)

Terminal strip 3 pole FKC2,5/3-ST-5,08

for relay 1 + 2 (two way)

Terminal strip 4pole space 3.81 non Ex

Terminal analog output 1 + status output (DI11,DI12,O15)
Suksesshistorier
Kjølevann direkte fra Østersjøen

Med CUS52D oppnår kraftverksoperatøren KNG lavere vedlikeholdskostnader på grunn av pålitelig og stabil måling også under krevende forhold i saltvann.

Enklere å følge regelverket

Den automatiserte fosfatovervåkingen med Liquiline System CA80PH hjelper matvareprodusenten Pasfrost med å overholde de strenge grenseverdiene for industrielt avløpsvann.
Vannovervåkning redder liv

Vann anses i stadig større grad som et verdifullt produkt i de fleste land. Derfor er det en stadig nedgang i aksepten for sløsing med vann, og behovet for å kontrollere vannkvaliteten øker.