Silikaanalysator
Liquiline System CA80SI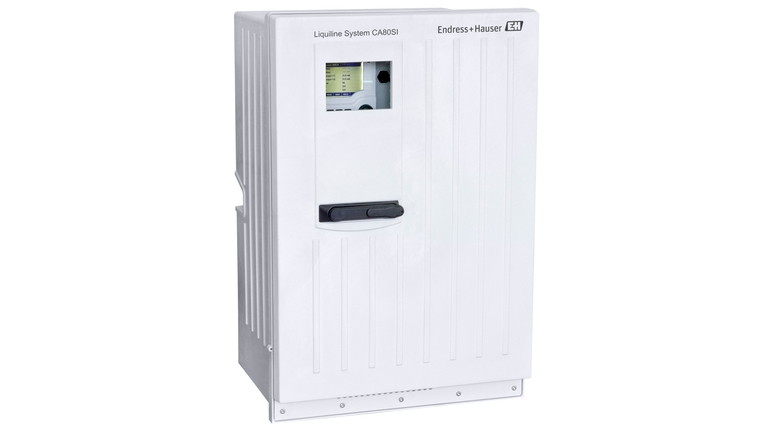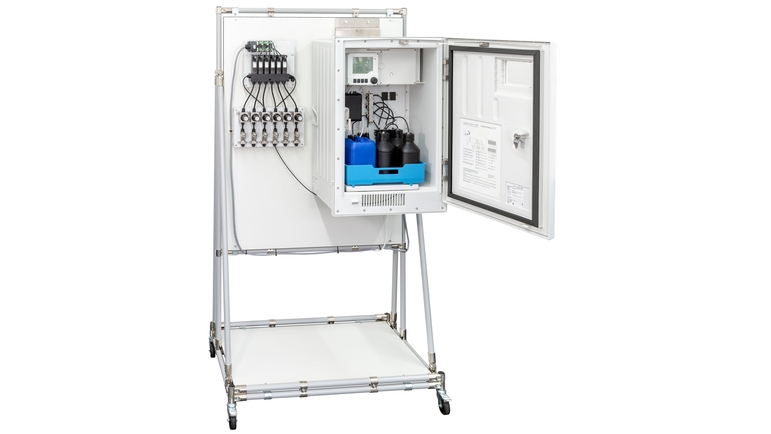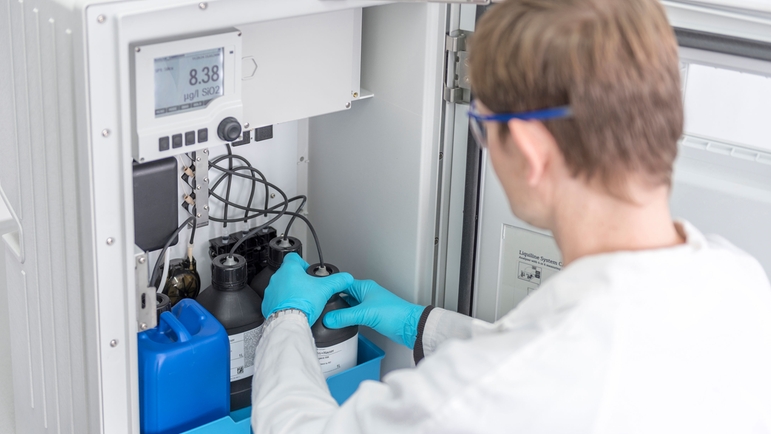 Kolorimetrisk system for overvåking av matevann til dampkjeler, i damp og i kondensat. og ionebyttere
Liquiline System CA80SI leverer presis elektronisk analyse av silika og bidrar til å beskytte anleggsutstyr mot glasslignende avleiringer som sikrer optimal ytelse av turbiner og ionebyttere. Dens unik kombinasjon av peristaltiske og svært presise dispenserpumper muliggjør ekstremt pålitelig drift og lavt vedlikehold. Silikaanalysatoren tilbyr avansert diagnostikk og kan enkelt tilpasses dine prosessbehov ved ettermontering av opptil 6 kanaler og tilkobling av opptil 4 Memosens-sensorer.
Enkle produkter

Enkelt å velge, intallere og bruke
Tekniske egenskaper
Enkelhet
Standardprodukter

Pålitelige, robuste og lette å vedlikeholde
Tekniske egenskaper
Enkelhet
High- end produkter

Høyst funksjonelle og praktiske
Tekniske egenskaper
Enkelhet
Spesialprodukter

Designet for krevende applikasjoner
Tekniske egenskaper
Enkelhet
FLEX utvalget
Tekniske egenskaper
Enkelhet

Fundamental utvalg

Møter dine grunleggende målebehov

Tekniske egenskaper

Enkelhet

Lean utvalg

Håndter henkelt dine kjerneprosesser

Tekniske egenskaper

Enkelhet

Extended utvalg

Optimaliser prosessene dine med innovative teknologier

Tekniske egenskaper

Enkelhet

Xpert utvalg

Mestre de mest utfordrende applikasjonene dine

Tekniske egenskaper

Enkelhet
Spesifikasjonene kort oppsummert

Measurement range

0.5 to 200 µg/l (ppb)
50 to 5000 µg/l (ppb)

Process temperature

5 to 45 °C (41 to 113 °F)

Process pressure

1 to 5 bar (14.5 to 72.5 psi)

Measuring method

Comply with standard colorimetric measuring principle - heteropoly blue method
Loading alternative products
Hurtigvalg
Velg ett av våre foreslåtte alternative
individuell konfigurasjon
Fortsett for å velge blant alle mulige alternativer
Fordeler

Beskyttelse av dyrt anleggsutstyr i kraftbransjen: Silikaanalysatoren overvåker spornivåer av silika i vanndampsykluser og bidrar til å unngå glasslignende avleiringer på utstyrsoverflatene.

Tidlig elektronisk påvisning av kritiske silikanivåer sikrer...
Bruksområde

CA80SI-silikaanalysatoren overvåker spornivåer av silika i kraftbransjen og kraftselskaper:

Indikasjon av renheten for kjelmatevann og damp

Tilveiebringelse av tidlig advarsel om kondensatorlekkasjer

Tidlig advarsel om uttømming av ionebyttere
Dokumenter / håndbøker / programvare
Liquiline System CA80SI

Colorimetric analyzer for silica

Technical Information (TI)

Liquiline System CA80SI

Colorimetric analyzer for silica

Operating Instruction (BA)

Memosens Operating Instructions

Sensor inputs with Memosens protocol

Operating Instruction (BA)

Liquiline System CA80SI

Colorimetric analyzer for silica

Short Instruction (KA)

05/21

Activation codes kit

For extended functionality

Special Documentation (SD)

Special Documentation Liquiline 4-wire Platform

EtherNet/IP guideline

Special Documentation (SD)

CY80SI for Liquiline System CA80SI Mixing of the reagent Special Documentation

Mixing of the reagent

Special Documentation (SD)

CM44x/R/P / CSFxx / CA80xx

PROFIBUS Guideline

Special Documentation (SD)

CM44x/R/P / CSFxx / CA80xx

Webserver Guideline

Special Documentation (SD)

Special Documentation Liquiline 4-wire Platform

Modbus Guideline

Special Documentation (SD)

Magnetic stir bar for CA80SI Magnetic stir bar for CA80SI Special Documentation

Magnetic stir bar for CA80SI

Special Documentation (SD)

Incineration plant

A complete range of process instrumentation and tailor-made solutions

Industry Solutions (SO)

02/21

Keep your power plant healthy

Online trace analysis of silica with Liquiline System CA80SI

Lange Lebensdauer für Ihr Kraftwerk

Online-Analyse von Kieselsäure mit Liquiline System CA80SI

Silizium-Analysegerät Liquiline CA80SI

Für die colormetrische Bestimmung des Siliziumgehalt mittels der
Heteropolyblau-
Methode.
Für die Anwendungen im Kesselspeisewasser, Wasser-Dampf-Kreisläufen und
Kondensat,
sowie zur Überwachung und Optimierung von Entsalzungs- und
Umkehrosmoseanlagen.

Firmware for Liquiline platform - version 01.08.00

Firmware for Liquiline CM44(R), Liquiline CM44P(R), Liquistation CSF34,
Liquistation CSF48, Liquiport CSP44, Liquiline System CA80

GSD Single, GSD_EH_DP_AN_LiquilineCA80xx_0x155E, 29.06.2020 (Analysis, Liquiline, 0x155E)

PROFIBUS DP,

PROFIBUS System Version: Any

Step 7 TIA Portal Version: 15.1

Step7-300 Version: 5.6.0.2

General Station Description (GSD)

1.30

GSD Single, GSD_PN_AN_Liquiline_0x859F_0x01, 22.03.2021 (Analysis, Liquiline, 0x859F)

PROFINET,

PROFINET System Version: Any

General Station Description (GSD)

1.00.00

EDS Single, EDS_EH_EIP_AN_Liquiline_0x109F_0x02_0x01, 30.07.2016 (Analysis, Liquiline)

EtherNet/IP,

EtherNet IP System Version: Any

Electronic Data Sheet (EDS)

2.1

EDD Single, PDM_DP_AN_Liquiline_0x155E_0x04_0x01, 05.08.2016 (Analysis, Liquiline, 0x155E)

PROFIBUS DP,

PDM Version: 6.1, 8.2

Electronic Data Description (EDD)

1.00.00

DTM Single, Liquiline_CA80xx_DP_FW_01_07_zz_Dev_Rev_4, 06.11.2020 (Analysis, Liquiline, 0x155E)

PROFIBUS DP,

DeviceCare Version: 1.07.00

Field Xpert - SMT70 Version: 1.05.00

FieldCare Version: 2.15.00

PACTware Version: 5.0

Device Type Manager (DTM)

1.11.0.0

DTM Single, Liquiline_CA80xx_DP_FW_01_06_zz_Dev_Rev_4, 06.11.2020 (Analysis, Liquiline, 0x155E)

PROFIBUS DP,

DeviceCare Version: 1.07.00

Field Xpert - SMT70 Version: 1.05.00

FieldCare Version: 2.15.00

PACTware Version: 4.1

Device Type Manager (DTM)

1.11.0.0

DTM Single, Liquiline_CA80xx_CDI_FW_1_06_zz_Dev_Rev_01, 18.11.2020 (Analysis, Liquiline, 0x119F)

Common Device Interface,

DeviceCare Version: 1.07.00

Field Xpert - SMT70 Version: 1.05.00

FieldCare Version: 2.15.00

Device Type Manager (DTM)

1.0.14.0

AOP Single, RS_EIP_AN_Liquiline_CA80xx_0x109F_0x02_0x01_AOP, 10.02.2021 (Analysis, Liquiline)

EtherNet/IP,

RA RSLogix 5000 Version: V15 and later

Add On Profile (AOP)

1.23.01

Certificate Single, Certificate_PN_AN_Liquiline_0x859F_1_8_0, 02.03.2021 (Analysis, Liquiline, 0x85

PROFINET,

PROFINET System Version: Any

ComDTM Single, CDI_CommDTM, 02.12.2019

Common Device Interface,

DeviceCare Version: 1.05.00

FieldCare Version: 2.13.00

Communication DTM

2.09.07

CY80SI-AH+SR (Turkey)

Reagent set (SR) for CA80SI ready to prepare

Reagents/standard solutions/cleaner for analyzer

CY80SI-AH+xE (Switzerland (Italian))

Standard solution SiO2, 1000µg/L

Reagents/standard solutions/cleaner for analyzer

CY80SI-AH+xE (Ireland)

Standard solution SiO2, 1000µg/L

Reagents/standard solutions/cleaner for analyzer

CY80SI-AH+TA (Turkey)

Standard solution SiO2, 0mg/L

Reagents/standard solutions/cleaner for analyzer

CY80SI-AH+xF (Brasilien)

Standard solution SiO2 2500µg/L

Reagents/standard solutions/cleaner for analyzer

CY80SI-AH+xF (United Arab Emirates)

Standard solution SiO2 2500µg/L

Reagents/standard solutions/cleaner for analyzer

CY80SI-AH+xC (Estonia)

Standard solution 200µg/L SiO2

Reagents/standard solutions/cleaner for analyzer

CY80SI-AH+SH (European Union)

Reagent set (SH) for CA80SI

Reagents/standard solutions/cleaner for analyzer

CY80SI-AH+xB (Slovenia)

standard solution, SiO2 50µg/L

Reagents/standard solutions/cleaner for analyzer

CY80SI-AH+xB (Turkey)

standard solution, SiO2 50µg/L

Reagents/standard solutions/cleaner for analyzer

CY80SI-AH+SH (Italy)

Reagent set (SH) for CA80SI

Reagents/standard solutions/cleaner for analyzer

CY80SI-AH+xF (Canada)

Standard solution SiO2 2500µg/L

Reagents/standard solutions/cleaner for analyzer

CY80SI-AH+SR (Austria)

Reagent set (SR) for CA80SI ready to prepare

Reagents/standard solutions/cleaner for analyzer

CY80SI-AH+xD (Switzerland (French))

Standard solution SiO2 500µg/L

Reagents/standard solutions/cleaner for analyzer

CY80SI-AH+xE (China)

Standard solution SiO2, 1000µg/L

Reagents/standard solutions/cleaner for analyzer

CY80SI-AH+xD (United Kingdom)

Standard solution SiO2 500µg/L

Reagents/standard solutions/cleaner for analyzer

CY80SI-AH+TA (United Kingdom)

Standard solution SiO2, 0mg/L

Reagents/standard solutions/cleaner for analyzer

CY80SI-AH+SH (Slovakia)

Reagent set (SH) for CA80SI

Reagents/standard solutions/cleaner for analyzer

CY80SI-AH+xF (Canada (French))

Standard solution SiO2 2500µg/L

Reagents/standard solutions/cleaner for analyzer

CY80SI-AH+xD (Netherlands)

Standard solution SiO2 500µg/L

Reagents/standard solutions/cleaner for analyzer

CY80SI-AH+xB (Canada (French))

standard solution, SiO2 50µg/L

Reagents/standard solutions/cleaner for analyzer

CY80SI-AH+xF (United Arab Emirates)

Standard solution SiO2 2500µg/L

Reagents/standard solutions/cleaner for analyzer

CY80SI-AH+xE (United Arab Emirates)

Standard solution SiO2, 1000µg/L

Reagents/standard solutions/cleaner for analyzer

CY80SI-AH+xF (Switzerland (French))

Standard solution SiO2 2500µg/L

Reagents/standard solutions/cleaner for analyzer

CY80SI-AH+xF (France)

Standard solution SiO2 2500µg/L

Reagents/standard solutions/cleaner for analyzer

CY80SI-AH+xC (India)

Standard solution 200µg/L SiO2

Reagents/standard solutions/cleaner for analyzer

CY80SI-AH+SR (Canada)

Reagent set (SR) for CA80SI ready to prepare

Reagents/standard solutions/cleaner for analyzer

CY80SI-AH+xB (Saudi Arabien)

standard solution, SiO2 50µg/L

Reagents/standard solutions/cleaner for analyzer

CY80SI-AH+xC (Australia)

Standard solution 200µg/L SiO2

Reagents/standard solutions/cleaner for analyzer

CY80SI-AH+xB (Slovakia)

standard solution, SiO2 50µg/L

Reagents/standard solutions/cleaner for analyzer

CY80SI-AH+SR (China)

Reagent set (SR) for CA80SI ready to prepare

Reagents/standard solutions/cleaner for analyzer

CY80SI-AH+TA (Japan)

Standard solution SiO2, 0mg/L

Reagents/standard solutions/cleaner for analyzer

CY80SI-AH+SR (Croatia)

Reagent set (SR) for CA80SI ready to prepare

Reagents/standard solutions/cleaner for analyzer

CY80SI-AH+TA (Hungary)

Standard solution SiO2, 0mg/L

Reagents/standard solutions/cleaner for analyzer

CY80SI-AH+xF (Netherlands)

Standard solution SiO2 2500µg/L

Reagents/standard solutions/cleaner for analyzer

CY80SI-AH+xC (Lithuania)

Standard solution 200µg/L SiO2

Reagents/standard solutions/cleaner for analyzer

CY80SI-AH+SR (Bulgaria)

Reagent set (SR) for CA80SI ready to prepare

Reagents/standard solutions/cleaner for analyzer

CY80SI-AH+SH (Saudi Arabien)

Reagent set (SH) for CA80SI

Reagents/standard solutions/cleaner for analyzer

CY80SI-AH+TA (Portugal)

Standard solution SiO2, 0mg/L

Reagents/standard solutions/cleaner for analyzer

CY80SI-AH+SH (South Africa)

Reagent set (SH) for CA80SI

Reagents/standard solutions/cleaner for analyzer

CY80SI-AH+xE (Turkey)

Standard solution SiO2, 1000µg/L

Reagents/standard solutions/cleaner for analyzer

CY80SI-AH+xE (European Union)

Standard solution SiO2, 1000µg/L

Reagents/standard solutions/cleaner for analyzer

CY80SI-AH+xB (Sweden)

standard solution, SiO2 50µg/L

Reagents/standard solutions/cleaner for analyzer

CY80SI-AH+SH (Switzerland (French))

Reagent set (SH) for CA80SI

Reagents/standard solutions/cleaner for analyzer

CY80SI-AH+SH (Spain)

Reagent set (SH) for CA80SI

Reagents/standard solutions/cleaner for analyzer

CY80SI-AH+SR (Czech Republic)

Reagent set (SR) for CA80SI ready to prepare

Reagents/standard solutions/cleaner for analyzer

CY80SI-AH+xE (Italy)

Standard solution SiO2, 1000µg/L

Reagents/standard solutions/cleaner for analyzer

CY80SI-AH+TA (Russia)

Standard solution SiO2, 0mg/L

Reagents/standard solutions/cleaner for analyzer

CY80SI-AH+xF (South Korea)

Standard solution SiO2 2500µg/L

Reagents/standard solutions/cleaner for analyzer

CY80SI-AH+xE (Greece)

Standard solution SiO2, 1000µg/L

Reagents/standard solutions/cleaner for analyzer

CY80SI-AH+xB (Belgium (Dutch))

standard solution, SiO2 50µg/L

Reagents/standard solutions/cleaner for analyzer

CY80SI-AH+xF (Turkey)

Standard solution SiO2 2500µg/L

Reagents/standard solutions/cleaner for analyzer

CY80SI-AH+TA (Greece)

Standard solution SiO2, 0mg/L

Reagents/standard solutions/cleaner for analyzer

CY80SI-AH+SR (Slovakia)

Reagent set (SR) for CA80SI ready to prepare

Reagents/standard solutions/cleaner for analyzer

CY80SI-AH+xE (France)

Standard solution SiO2, 1000µg/L

Reagents/standard solutions/cleaner for analyzer

CY80SI-AH+SR (South Korea)

Reagent set (SR) for CA80SI ready to prepare

Reagents/standard solutions/cleaner for analyzer

CY80SI-AH+xC (Malta)

Standard solution 200µg/L SiO2

Reagents/standard solutions/cleaner for analyzer

CY80SI-AH+SH (Greece)

Reagent set (SH) for CA80SI

Reagents/standard solutions/cleaner for analyzer

CY80SI-AH+xC (Hungary)

Standard solution 200µg/L SiO2

Reagents/standard solutions/cleaner for analyzer

CY80SI-AH+TA (South Korea)

Standard solution SiO2, 0mg/L

Reagents/standard solutions/cleaner for analyzer

CY80SI-AH+xB (Canada)

standard solution, SiO2 50µg/L

Reagents/standard solutions/cleaner for analyzer

CY80SI-AH+xF (China)

Standard solution SiO2 2500µg/L

Reagents/standard solutions/cleaner for analyzer

CY80SI-AH+SH (Croatia)

Reagent set (SH) for CA80SI

Reagents/standard solutions/cleaner for analyzer

CY80SI-AH+xE (United Kingdom)

Standard solution SiO2, 1000µg/L

Reagents/standard solutions/cleaner for analyzer

CY80SI-AH+xD (Italy)

Standard solution SiO2 500µg/L

Reagents/standard solutions/cleaner for analyzer

CY80SI-AH+xF (Romania)

Standard solution SiO2 2500µg/L

Reagents/standard solutions/cleaner for analyzer

CY80SI-AH+xE (Romania)

Standard solution SiO2, 1000µg/L

Reagents/standard solutions/cleaner for analyzer

CY80SI-AH+xD (Estonia)

Standard solution SiO2 500µg/L

Reagents/standard solutions/cleaner for analyzer

CY80SI-AH+TA (Estonia)

Standard solution SiO2, 0mg/L

Reagents/standard solutions/cleaner for analyzer

CY80SI-AH+xF (Japan)

Standard solution SiO2 2500µg/L

Reagents/standard solutions/cleaner for analyzer

CY80SI-AH+SR (Latvia)

Reagent set (SR) for CA80SI ready to prepare

Reagents/standard solutions/cleaner for analyzer

CY80SI-AH+xD (South Korea)

Standard solution SiO2 500µg/L

Reagents/standard solutions/cleaner for analyzer

CY80SI-AH+SR (Slovenia)

Reagent set (SR) for CA80SI ready to prepare

Reagents/standard solutions/cleaner for analyzer

CY80SI-AH+xD (Slovakia)

Standard solution SiO2 500µg/L

Reagents/standard solutions/cleaner for analyzer

CY80SI-AH+xF (Portugal)

Standard solution SiO2 2500µg/L

Reagents/standard solutions/cleaner for analyzer

CY80SI-AH+xD (Turkey)

Standard solution SiO2 500µg/L

Reagents/standard solutions/cleaner for analyzer

CY80SI-AH+xC (Canada (French))

Standard solution 200µg/L SiO2

Reagents/standard solutions/cleaner for analyzer

CY80SI-AH+xE (Belgium (Dutch))

Standard solution SiO2, 1000µg/L

Reagents/standard solutions/cleaner for analyzer

CY80SI-AH+xE (Denmark)

Standard solution SiO2, 1000µg/L

Reagents/standard solutions/cleaner for analyzer

CY80SI-AH+xB (Switzerland (French))

standard solution, SiO2 50µg/L

Reagents/standard solutions/cleaner for analyzer

CY80SI-AH+xC (Mexico)

Standard solution 200µg/L SiO2

Reagents/standard solutions/cleaner for analyzer

CY80SI-AH+SR (Norway)

Reagent set (SR) for CA80SI ready to prepare

Reagents/standard solutions/cleaner for analyzer

CY80SI-AH+TA (India)

Standard solution SiO2, 0mg/L

Reagents/standard solutions/cleaner for analyzer

CY80SI-AH+SH (Lithuania)

Reagent set (SH) for CA80SI

Reagents/standard solutions/cleaner for analyzer

CY80SI-AH+SH (Norway)

Reagent set (SH) for CA80SI

Reagents/standard solutions/cleaner for analyzer

CY80SI-AH+xE (Czech Republic)

Standard solution SiO2, 1000µg/L

Reagents/standard solutions/cleaner for analyzer

CY80SI-AH+TA (United Arab Emirates)

Standard solution SiO2, 0mg/L

Reagents/standard solutions/cleaner for analyzer

CY80SI-AH+xD (Latvia)

Standard solution SiO2 500µg/L

Reagents/standard solutions/cleaner for analyzer

CY80SI-AH+xD (Lithuania)

Standard solution SiO2 500µg/L

Reagents/standard solutions/cleaner for analyzer

CY80SI-AH+xE (Saudi Arabien)

Standard solution SiO2, 1000µg/L

Reagents/standard solutions/cleaner for analyzer

CY80SI-AH+xE (Ukraine)

Standard solution SiO2, 1000µg/L

Reagents/standard solutions/cleaner for analyzer

CY80SI-AH+xB (Netherlands)

standard solution, SiO2 50µg/L

Reagents/standard solutions/cleaner for analyzer

CY80SI-AH+SH (United Arab Emirates)

Reagent set (SH) for CA80SI

Reagents/standard solutions/cleaner for analyzer

CY80SI-AH+xE (South Africa)

Standard solution SiO2, 1000µg/L

Reagents/standard solutions/cleaner for analyzer

CY80SI-AH+TA (Ukraine)

Standard solution SiO2, 0mg/L

Reagents/standard solutions/cleaner for analyzer

CY80SI-AH+xB (Latvia)

standard solution, SiO2 50µg/L

Reagents/standard solutions/cleaner for analyzer

CY80SI-AH+SH (New Zealand)

Reagent set (SH) for CA80SI

Reagents/standard solutions/cleaner for analyzer

CY80SI-AH+xB (Norway)

standard solution, SiO2 50µg/L

Reagents/standard solutions/cleaner for analyzer

CY80SI-AH+xD (Denmark)

Standard solution SiO2 500µg/L

Reagents/standard solutions/cleaner for analyzer

CY80SI-AH+xD (Belgium (Dutch))

Standard solution SiO2 500µg/L

Reagents/standard solutions/cleaner for analyzer

CY80SI-AH+SH (Canada (French))

Reagent set (SH) for CA80SI

Reagents/standard solutions/cleaner for analyzer

CY80SI-AH+SR (Germany)

Reagent set (SR) for CA80SI ready to prepare

Reagents/standard solutions/cleaner for analyzer

CY80SI-AH+xB (China)

standard solution, SiO2 50µg/L

Reagents/standard solutions/cleaner for analyzer

CY80SI-AH+xB (United Arab Emirates)

standard solution, SiO2 50µg/L

Reagents/standard solutions/cleaner for analyzer

CY80SI-AH+xD (Japan)

Standard solution SiO2 500µg/L

Reagents/standard solutions/cleaner for analyzer

CY80SI-AH+xD (Norway)

Standard solution SiO2 500µg/L

Reagents/standard solutions/cleaner for analyzer

CY80SI-AH+SR (Russia)

Reagent set (SR) for CA80SI ready to prepare

Reagents/standard solutions/cleaner for analyzer

CY80SI-AH+xF (Poland)

Standard solution SiO2 2500µg/L

Reagents/standard solutions/cleaner for analyzer

CY80SI-AH+xD (Malta)

Standard solution SiO2 500µg/L

Reagents/standard solutions/cleaner for analyzer

CY80SI-AH+xB (Croatia)

standard solution, SiO2 50µg/L

Reagents/standard solutions/cleaner for analyzer

CY80SI-AH+xE (Russia)

Standard solution SiO2, 1000µg/L

Reagents/standard solutions/cleaner for analyzer

CY80SI-AH+xF (Hungary)

Standard solution SiO2 2500µg/L

Reagents/standard solutions/cleaner for analyzer

CY80SI-AH+xE (Lithuania)

Standard solution SiO2, 1000µg/L

Reagents/standard solutions/cleaner for analyzer

CY80SI-AH+xC (USA)

Standard solution 200µg/L SiO2

Reagents/standard solutions/cleaner for analyzer

CY80SI-AH+TA (Romania)

Standard solution SiO2, 0mg/L

Reagents/standard solutions/cleaner for analyzer

CY80SI-AH+xD (Germany)

Standard solution SiO2 500µg/L

Reagents/standard solutions/cleaner for analyzer

CY80SI-AH+SR (Greece)

Reagent set (SR) for CA80SI ready to prepare

Reagents/standard solutions/cleaner for analyzer

CY80SI-AH+xB (Ireland)

standard solution, SiO2 50µg/L

Reagents/standard solutions/cleaner for analyzer

CY80SI-AH+SH (Estonia)

Reagent set (SH) for CA80SI

Reagents/standard solutions/cleaner for analyzer

CY80SI-AH+xD (Ireland)

Standard solution SiO2 500µg/L

Reagents/standard solutions/cleaner for analyzer

CY80SI-AH+xF (Italy)

Standard solution SiO2 2500µg/L

Reagents/standard solutions/cleaner for analyzer

CY80SI-AH+xD (Czech Republic)

Standard solution SiO2 500µg/L

Reagents/standard solutions/cleaner for analyzer

CY80SI-AH+SR (United Kingdom)

Reagent set (SR) for CA80SI ready to prepare

Reagents/standard solutions/cleaner for analyzer

CY80SI-AH+SH (Germany)

Reagent set (SH) for CA80SI

Reagents/standard solutions/cleaner for analyzer

CY80SI-AH+xF (Spain)

Standard solution SiO2 2500µg/L

Reagents/standard solutions/cleaner for analyzer

CY80SI-AH+xC (Switzerland (Italian))

Standard solution 200µg/L SiO2

Reagents/standard solutions/cleaner for analyzer

CY80SI-AH+TA (Canada)

Standard solution SiO2, 0mg/L

Reagents/standard solutions/cleaner for analyzer

CY80SI-AH+SR (Belgium)

Reagent set (SR) for CA80SI ready to prepare

Reagents/standard solutions/cleaner for analyzer

CY80SI-AH+xF (Finland)

Standard solution SiO2 2500µg/L

Reagents/standard solutions/cleaner for analyzer

CY80SI-AH+xB (Australia)

standard solution, SiO2 50µg/L

Reagents/standard solutions/cleaner for analyzer

CY80SI-AH+xE (Estonia)

Standard solution SiO2, 1000µg/L

Reagents/standard solutions/cleaner for analyzer

CY80SI-AH+xC (Belgium (Dutch))

Standard solution 200µg/L SiO2

Reagents/standard solutions/cleaner for analyzer

CY80SI-AH+xF (Switzerland)

Standard solution SiO2 2500µg/L

Reagents/standard solutions/cleaner for analyzer

CY80SI-AH+TA (Switzerland)

Standard solution SiO2, 0mg/L

Reagents/standard solutions/cleaner for analyzer

CY80SI-AH+xE (Spain)

Standard solution SiO2, 1000µg/L

Reagents/standard solutions/cleaner for analyzer

CY80SI-AH+xB (South Korea)

standard solution, SiO2 50µg/L

Reagents/standard solutions/cleaner for analyzer

CY80SI-AH+xC (Italy)

Standard solution 200µg/L SiO2

Reagents/standard solutions/cleaner for analyzer

CY80SI-AH+SR (Sweden)

Reagent set (SR) for CA80SI ready to prepare

Reagents/standard solutions/cleaner for analyzer

CY80SI-AH+xC (Finland)

Standard solution 200µg/L SiO2

Reagents/standard solutions/cleaner for analyzer

CY80SI-AH+SH (Sweden)

Reagent set (SH) for CA80SI

Reagents/standard solutions/cleaner for analyzer

CY80SI-AH+xD (Finland)

Standard solution SiO2 500µg/L

Reagents/standard solutions/cleaner for analyzer

CY80SI-AH+xC (South Korea)

Standard solution 200µg/L SiO2

Reagents/standard solutions/cleaner for analyzer

CY80SI-AH+TA (Switzerland (French))

Standard solution SiO2, 0mg/L

Reagents/standard solutions/cleaner for analyzer

CY80SI-AH+xC (South Africa)

Standard solution 200µg/L SiO2

Reagents/standard solutions/cleaner for analyzer

CY80SI-AH+SH (Switzerland)

Reagent set (SH) for CA80SI

Reagents/standard solutions/cleaner for analyzer

CY80SI-AH+xF (Slovenia)

Standard solution SiO2 2500µg/L

Reagents/standard solutions/cleaner for analyzer

CY80SI-AH+xD (United Arab Emirates)

Standard solution SiO2 500µg/L

Reagents/standard solutions/cleaner for analyzer

CY80SI-AH+TA (Switzerland (Italian))

Standard solution SiO2, 0mg/L

Reagents/standard solutions/cleaner for analyzer

CY80SI-AH+SH (Canada)

Reagent set (SH) for CA80SI

Reagents/standard solutions/cleaner for analyzer

CY80SI-AH+SR (Lithuania)

Reagent set (SR) for CA80SI ready to prepare

Reagents/standard solutions/cleaner for analyzer

CY80SI-AH+TA (France)

Standard solution SiO2, 0mg/L

Reagents/standard solutions/cleaner for analyzer

CY80SI-AH+xC (United Arab Emirates)

Standard solution 200µg/L SiO2

Reagents/standard solutions/cleaner for analyzer

CY80SI-AH+SH (Romania)

Reagent set (SH) for CA80SI

Reagents/standard solutions/cleaner for analyzer

CY80SI-AH+SR (Italy)

Reagent set (SR) for CA80SI ready to prepare

Reagents/standard solutions/cleaner for analyzer

CY80SI-AH+xE (United Arab Emirates)

Standard solution SiO2, 1000µg/L

Reagents/standard solutions/cleaner for analyzer

CY80SI-AH+xB (South Africa)

standard solution, SiO2 50µg/L

Reagents/standard solutions/cleaner for analyzer

CY80SI-AH+xF (United Kingdom)

Standard solution SiO2 2500µg/L

Reagents/standard solutions/cleaner for analyzer

CY80SI-AH+xB (Belgium)

standard solution, SiO2 50µg/L

Reagents/standard solutions/cleaner for analyzer

CY80SI-AH+xF (Czech Republic)

Standard solution SiO2 2500µg/L

Reagents/standard solutions/cleaner for analyzer

CY80SI-AH+xC (France)

Standard solution 200µg/L SiO2

Reagents/standard solutions/cleaner for analyzer

CY80SI-AH+xB (European Union)

standard solution, SiO2 50µg/L

Reagents/standard solutions/cleaner for analyzer

CY80SI-AH+xF (Bulgaria)

Standard solution SiO2 2500µg/L

Reagents/standard solutions/cleaner for analyzer

CY80SI-AH+xB (United Arab Emirates)

standard solution, SiO2 50µg/L

Reagents/standard solutions/cleaner for analyzer

CY80SI-AH+SH (Switzerland (Italian))

Reagent set (SH) for CA80SI

Reagents/standard solutions/cleaner for analyzer

CY80SI-AH+xF (Sweden)

Standard solution SiO2 2500µg/L

Reagents/standard solutions/cleaner for analyzer

CY80SI-AH+xC (Portugal)

Standard solution 200µg/L SiO2

Reagents/standard solutions/cleaner for analyzer

CY80SI-AH+xD (Belgium)

Standard solution SiO2 500µg/L

Reagents/standard solutions/cleaner for analyzer

CY80SI-AH+xE (Malta)

Standard solution SiO2, 1000µg/L

Reagents/standard solutions/cleaner for analyzer

CY80SI-AH+xB (Denmark)

standard solution, SiO2 50µg/L

Reagents/standard solutions/cleaner for analyzer

CY80SI-AH+xB (Hungary)

standard solution, SiO2 50µg/L

Reagents/standard solutions/cleaner for analyzer

CY80SI-AH+xD (Canada (French))

Standard solution SiO2 500µg/L

Reagents/standard solutions/cleaner for analyzer

CY80SI-AH+xF (Ireland)

Standard solution SiO2 2500µg/L

Reagents/standard solutions/cleaner for analyzer

CY80SI-AH+SR (Spain)

Reagent set (SR) for CA80SI ready to prepare

Reagents/standard solutions/cleaner for analyzer

CY80SI-AH+SR (European Union)

Reagent set (SR) for CA80SI ready to prepare

Reagents/standard solutions/cleaner for analyzer

CY80SI-AH+xE (Germany)

Standard solution SiO2, 1000µg/L

Reagents/standard solutions/cleaner for analyzer

CY80SI-AH+xE (Netherlands)

Standard solution SiO2, 1000µg/L

Reagents/standard solutions/cleaner for analyzer

CY80SI-AH+TA (Netherlands)

Standard solution SiO2, 0mg/L

Reagents/standard solutions/cleaner for analyzer

CY80SI-AH+xF (Ukraine)

Standard solution SiO2 2500µg/L

Reagents/standard solutions/cleaner for analyzer

CY80SI-AH+SH (France)

Reagent set (SH) for CA80SI

Reagents/standard solutions/cleaner for analyzer

CY80SI-AH+xD (South Africa)

Standard solution SiO2 500µg/L

Reagents/standard solutions/cleaner for analyzer

CY80SI-AH+xD (Greece)

Standard solution SiO2 500µg/L

Reagents/standard solutions/cleaner for analyzer

CY80SI-AH+xF (Germany)

Standard solution SiO2 2500µg/L

Reagents/standard solutions/cleaner for analyzer

CY80SI-AH+xB (Czech Republic)

standard solution, SiO2 50µg/L

Reagents/standard solutions/cleaner for analyzer

CY80SI-AH+xE (New Zealand)

Standard solution SiO2, 1000µg/L

Reagents/standard solutions/cleaner for analyzer

CY80SI-AH+SH (Belgium (Dutch))

Reagent set (SH) for CA80SI

Reagents/standard solutions/cleaner for analyzer

CY80SI-AH+xD (Switzerland (Italian))

Standard solution SiO2 500µg/L

Reagents/standard solutions/cleaner for analyzer

CY80SI-AH+xC (Ukraine)

Standard solution 200µg/L SiO2

Reagents/standard solutions/cleaner for analyzer

CY80SI-AH+SR (India)

Reagent set (SR) for CA80SI ready to prepare

Reagents/standard solutions/cleaner for analyzer

CY80SI-AH+xD (Romania)

Standard solution SiO2 500µg/L

Reagents/standard solutions/cleaner for analyzer

CY80SI-AH+xD (Bulgaria)

Standard solution SiO2 500µg/L

Reagents/standard solutions/cleaner for analyzer

CY80SI-AH+SH (South Korea)

Reagent set (SH) for CA80SI

Reagents/standard solutions/cleaner for analyzer

CY80SI-AH+xC (Romania)

Standard solution 200µg/L SiO2

Reagents/standard solutions/cleaner for analyzer

CY80SI-AH+xC (Spain)

Standard solution 200µg/L SiO2

Reagents/standard solutions/cleaner for analyzer

CY80SI-AH+xC (Greece)

Standard solution 200µg/L SiO2

Reagents/standard solutions/cleaner for analyzer

CY80SI-AH+SR (United Arab Emirates)

Reagent set (SR) for CA80SI ready to prepare

Reagents/standard solutions/cleaner for analyzer

CY80SI-AH+xC (Ireland)

Standard solution 200µg/L SiO2

Reagents/standard solutions/cleaner for analyzer

CY80SI-AH+TA (European Union)

Standard solution SiO2, 0mg/L

Reagents/standard solutions/cleaner for analyzer

CY80SI-AH+SR (Saudi Arabien)

Reagent set (SR) for CA80SI ready to prepare

Reagents/standard solutions/cleaner for analyzer

CY80SI-AH+TA (Italy)

Standard solution SiO2, 0mg/L

Reagents/standard solutions/cleaner for analyzer

CY80SI-AH+TA (South Africa)

Standard solution SiO2, 0mg/L

Reagents/standard solutions/cleaner for analyzer

CY80SI-AH+SH (Czech Republic)

Reagent set (SH) for CA80SI

Reagents/standard solutions/cleaner for analyzer

CY80SI-AH+xF (Russia)

Standard solution SiO2 2500µg/L

Reagents/standard solutions/cleaner for analyzer

CY80SI-AH+SH (Belgium)

Reagent set (SH) for CA80SI

Reagents/standard solutions/cleaner for analyzer

CY80SI-AH+TA (USA)

Standard solution SiO2, 0mg/L

Reagents/standard solutions/cleaner for analyzer

CY80SI-AH+TA (Sweden)

Standard solution SiO2, 0mg/L

Reagents/standard solutions/cleaner for analyzer

CY80SI-AH+SH (Mexico)

Reagent set (SH) for CA80SI

Reagents/standard solutions/cleaner for analyzer

CY80SI-AH+xD (USA)

Standard solution SiO2 500µg/L

Reagents/standard solutions/cleaner for analyzer

CY80SI-AH+xE (South Korea)

Standard solution SiO2, 1000µg/L

Reagents/standard solutions/cleaner for analyzer

CY80SI-AH+xC (Czech Republic)

Standard solution 200µg/L SiO2

Reagents/standard solutions/cleaner for analyzer

CY80SI-AH+SR (Netherlands)

Reagent set (SR) for CA80SI ready to prepare

Reagents/standard solutions/cleaner for analyzer

CY80SI-AH+TA (Austria)

Standard solution SiO2, 0mg/L

Reagents/standard solutions/cleaner for analyzer

CY80SI-AH+xF (Switzerland (Italian))

Standard solution SiO2 2500µg/L

Reagents/standard solutions/cleaner for analyzer

CY80SI-AH+SR (France)

Reagent set (SR) for CA80SI ready to prepare

Reagents/standard solutions/cleaner for analyzer

CY80SI-AH+TA (Lithuania)

Standard solution SiO2, 0mg/L

Reagents/standard solutions/cleaner for analyzer

CY80SI-AH+xF (Belgium)

Standard solution SiO2 2500µg/L

Reagents/standard solutions/cleaner for analyzer

CY80SI-AH+xD (China)

Standard solution SiO2 500µg/L

Reagents/standard solutions/cleaner for analyzer

CY80SI-AH+xB (Italy)

standard solution, SiO2 50µg/L

Reagents/standard solutions/cleaner for analyzer

CY80SI-AH+xC (Switzerland (French))

Standard solution 200µg/L SiO2

Reagents/standard solutions/cleaner for analyzer

CY80SI-AH+SH (Latvia)

Reagent set (SH) for CA80SI

Reagents/standard solutions/cleaner for analyzer

CY80SI-AH+TA (Croatia)

Standard solution SiO2, 0mg/L

Reagents/standard solutions/cleaner for analyzer

CY80SI-AH+SR (Belgium (Dutch))

Reagent set (SR) for CA80SI ready to prepare

Reagents/standard solutions/cleaner for analyzer

CY80SI-AH+SH (Japan)

Reagent set (SH) for CA80SI

Reagents/standard solutions/cleaner for analyzer

CY80SI-AH+TA (Bulgaria)

Standard solution SiO2, 0mg/L

Reagents/standard solutions/cleaner for analyzer

CY80SI-AH+xC (United Kingdom)

Standard solution 200µg/L SiO2

Reagents/standard solutions/cleaner for analyzer

CY80SI-AH+xE (Slovakia)

Standard solution SiO2, 1000µg/L

Reagents/standard solutions/cleaner for analyzer

CY80SI-AH+xF (Latvia)

Standard solution SiO2 2500µg/L

Reagents/standard solutions/cleaner for analyzer

CY80SI-AH+xB (Ukraine)

standard solution, SiO2 50µg/L

Reagents/standard solutions/cleaner for analyzer

CY80SI-AH+TA (Poland)

Standard solution SiO2, 0mg/L

Reagents/standard solutions/cleaner for analyzer

CY80SI-AH+xB (Romania)

standard solution, SiO2 50µg/L

Reagents/standard solutions/cleaner for analyzer

CY80SI-AH+xB (USA)

standard solution, SiO2 50µg/L

Reagents/standard solutions/cleaner for analyzer

CY80SI-AH+SH (Denmark)

Reagent set (SH) for CA80SI

Reagents/standard solutions/cleaner for analyzer

CY80SI-AH+xB (Mexico)

standard solution, SiO2 50µg/L

Reagents/standard solutions/cleaner for analyzer

CY80SI-AH+xE (Austria)

Standard solution SiO2, 1000µg/L

Reagents/standard solutions/cleaner for analyzer

CY80SI-AH+xE (Croatia)

Standard solution SiO2, 1000µg/L

Reagents/standard solutions/cleaner for analyzer

CY80SI-AH+xD (Canada)

Standard solution SiO2 500µg/L

Reagents/standard solutions/cleaner for analyzer

CY80SI-AH+xE (Belgium)

Standard solution SiO2, 1000µg/L

Reagents/standard solutions/cleaner for analyzer

CY80SI-AH+xD (Austria)

Standard solution SiO2 500µg/L

Reagents/standard solutions/cleaner for analyzer

CY80SI-AH+TA (Czech Republic)

Standard solution SiO2, 0mg/L

Reagents/standard solutions/cleaner for analyzer

CY80SI-AH+SH (Bulgaria)

Reagent set (SH) for CA80SI

Reagents/standard solutions/cleaner for analyzer

CY80SI-AH+xD (France)

Standard solution SiO2 500µg/L

Reagents/standard solutions/cleaner for analyzer

CY80SI-AH+TA (Belgium)

Standard solution SiO2, 0mg/L

Reagents/standard solutions/cleaner for analyzer

CY80SI-AH+xF (Saudi Arabien)

Standard solution SiO2 2500µg/L

Reagents/standard solutions/cleaner for analyzer

CY80SI-AH+TA (Latvia)

Standard solution SiO2, 0mg/L

Reagents/standard solutions/cleaner for analyzer

CY80SI-AH+SH (United Kingdom)

Reagent set (SH) for CA80SI

Reagents/standard solutions/cleaner for analyzer

CY80SI-AH+xF (European Union)

Standard solution SiO2 2500µg/L

Reagents/standard solutions/cleaner for analyzer

CY80SI-AH+xF (South Africa)

Standard solution SiO2 2500µg/L

Reagents/standard solutions/cleaner for analyzer

CY80SI-AH+xD (New Zealand)

Standard solution SiO2 500µg/L

Reagents/standard solutions/cleaner for analyzer

CY80SI-AH+xF (Croatia)

Standard solution SiO2 2500µg/L

Reagents/standard solutions/cleaner for analyzer

CY80SI-AH+xE (Slovenia)

Standard solution SiO2, 1000µg/L

Reagents/standard solutions/cleaner for analyzer

CY80SI-AH+xB (Portugal)

standard solution, SiO2 50µg/L

Reagents/standard solutions/cleaner for analyzer

CY80SI-AH+xF (USA)

Standard solution SiO2 2500µg/L

Reagents/standard solutions/cleaner for analyzer

CY80SI-AH+xC (European Union)

Standard solution 200µg/L SiO2

Reagents/standard solutions/cleaner for analyzer

CY80SI-AH+SR (Switzerland (Italian))

Reagent set (SR) for CA80SI ready to prepare

Reagents/standard solutions/cleaner for analyzer

CY80SI-AH+xE (India)

Standard solution SiO2, 1000µg/L

Reagents/standard solutions/cleaner for analyzer

CY80SI-AH+TA (China)

Standard solution SiO2, 0mg/L

Reagents/standard solutions/cleaner for analyzer

CY80SI-AH+xE (Bulgaria)

Standard solution SiO2, 1000µg/L

Reagents/standard solutions/cleaner for analyzer

CY80SI-AH+TA (Malta)

Standard solution SiO2, 0mg/L

Reagents/standard solutions/cleaner for analyzer

CY80SI-AH+xF (Malta)

Standard solution SiO2 2500µg/L

Reagents/standard solutions/cleaner for analyzer

CY80SI-AH+xF (Estonia)

Standard solution SiO2 2500µg/L

Reagents/standard solutions/cleaner for analyzer

CY80SI-AH+xD (India)

Standard solution SiO2 500µg/L

Reagents/standard solutions/cleaner for analyzer

CY80SI-AH+xB (United Kingdom)

standard solution, SiO2 50µg/L

Reagents/standard solutions/cleaner for analyzer

CY80SI-AH+xF (Austria)

Standard solution SiO2 2500µg/L

Reagents/standard solutions/cleaner for analyzer

CY80SI-AH+xC (Austria)

Standard solution 200µg/L SiO2

Reagents/standard solutions/cleaner for analyzer

CY80SI-AH+TA (Germany)

Standard solution SiO2, 0mg/L

Reagents/standard solutions/cleaner for analyzer

CY80SI-AH+xB (New Zealand)

standard solution, SiO2 50µg/L

Reagents/standard solutions/cleaner for analyzer

CY80SI-AH+xB (Japan)

standard solution, SiO2 50µg/L

Reagents/standard solutions/cleaner for analyzer

CY80SI-AH+SR (New Zealand)

Reagent set (SR) for CA80SI ready to prepare

Reagents/standard solutions/cleaner for analyzer

CY80SI-AH+xC (Switzerland)

Standard solution 200µg/L SiO2

Reagents/standard solutions/cleaner for analyzer

CY80SI-AH+xB (Malta)

standard solution, SiO2 50µg/L

Reagents/standard solutions/cleaner for analyzer

CY80SI-AH+TA (Belgium (Dutch))

Standard solution SiO2, 0mg/L

Reagents/standard solutions/cleaner for analyzer

CY80SI-AH+SR (Australia)

Reagent set (SR) for CA80SI ready to prepare

Reagents/standard solutions/cleaner for analyzer

CY80SI-AH+xD (Russia)

Standard solution SiO2 500µg/L

Reagents/standard solutions/cleaner for analyzer

CY80SI-AH+SR (Mexico)

Reagent set (SR) for CA80SI ready to prepare

Reagents/standard solutions/cleaner for analyzer

CY80SI-AH+xB (Russia)

standard solution, SiO2 50µg/L

Reagents/standard solutions/cleaner for analyzer

CY80SI-AH+SH (Ukraine)

Reagent set (SH) for CA80SI

Reagents/standard solutions/cleaner for analyzer

CY80SI-AH+xD (Poland)

Standard solution SiO2 500µg/L

Reagents/standard solutions/cleaner for analyzer

CY80SI-AH+xE (Switzerland (French))

Standard solution SiO2, 1000µg/L

Reagents/standard solutions/cleaner for analyzer

CY80SI-AH+SR (Switzerland (French))

Reagent set (SR) for CA80SI ready to prepare

Reagents/standard solutions/cleaner for analyzer

CY80SI-AH+xB (Austria)

standard solution, SiO2 50µg/L

Reagents/standard solutions/cleaner for analyzer

CY80SI-AH+TA (Ireland)

Standard solution SiO2, 0mg/L

Reagents/standard solutions/cleaner for analyzer

CY80SI-AH+SR (Hungary)

Reagent set (SR) for CA80SI ready to prepare

Reagents/standard solutions/cleaner for analyzer

CY80SI-AH+xC (Latvia)

Standard solution 200µg/L SiO2

Reagents/standard solutions/cleaner for analyzer

CY80SI-AH+xD (Saudi Arabien)

Standard solution SiO2 500µg/L

Reagents/standard solutions/cleaner for analyzer

CY80SI-AH+xC (Norway)

Standard solution 200µg/L SiO2

Reagents/standard solutions/cleaner for analyzer

CY80SI-AH+SR (South Africa)

Reagent set (SR) for CA80SI ready to prepare

Reagents/standard solutions/cleaner for analyzer

CY80SI-AH+xD (Spain)

Standard solution SiO2 500µg/L

Reagents/standard solutions/cleaner for analyzer

CY80SI-AH+xE (USA)

Standard solution SiO2, 1000µg/L

Reagents/standard solutions/cleaner for analyzer

CY80SI-AH+xE (Switzerland)

Standard solution SiO2, 1000µg/L

Reagents/standard solutions/cleaner for analyzer

CY80SI-AH+xF (Denmark)

Standard solution SiO2 2500µg/L

Reagents/standard solutions/cleaner for analyzer

CY80SI-AH+SH (Finland)

Reagent set (SH) for CA80SI

Reagents/standard solutions/cleaner for analyzer

CY80SI-AH+xE (Sweden)

Standard solution SiO2, 1000µg/L

Reagents/standard solutions/cleaner for analyzer

CY80SI-AH+xC (Sweden)

Standard solution 200µg/L SiO2

Reagents/standard solutions/cleaner for analyzer

CY80SI-AH+SR (Malta)

Reagent set (SR) for CA80SI ready to prepare

Reagents/standard solutions/cleaner for analyzer

CY80SI-AH+xB (France)

standard solution, SiO2 50µg/L

Reagents/standard solutions/cleaner for analyzer

CY80SI-AH+xF (Australia)

Standard solution SiO2 2500µg/L

Reagents/standard solutions/cleaner for analyzer

CY80SI-AH+xD (Hungary)

Standard solution SiO2 500µg/L

Reagents/standard solutions/cleaner for analyzer

CY80SI-AH+xB (Finland)

standard solution, SiO2 50µg/L

Reagents/standard solutions/cleaner for analyzer

CY80SI-AH+SR (Ukraine)

Reagent set (SR) for CA80SI ready to prepare

Reagents/standard solutions/cleaner for analyzer

CY80SI-AH+TA (Saudi Arabien)

Standard solution SiO2, 0mg/L

Reagents/standard solutions/cleaner for analyzer

CY80SI-AH+TA (Mexico)

Standard solution SiO2, 0mg/L

Reagents/standard solutions/cleaner for analyzer

CY80SI-AH+SR (Romania)

Reagent set (SR) for CA80SI ready to prepare

Reagents/standard solutions/cleaner for analyzer

CY80SI-AH+xF (Norway)

Standard solution SiO2 2500µg/L

Reagents/standard solutions/cleaner for analyzer

CY80SI-AH+xB (Spain)

standard solution, SiO2 50µg/L

Reagents/standard solutions/cleaner for analyzer

CY80SI-AH+xB (Greece)

standard solution, SiO2 50µg/L

Reagents/standard solutions/cleaner for analyzer

CY80SI-AH+TA (Slovenia)

Standard solution SiO2, 0mg/L

Reagents/standard solutions/cleaner for analyzer

CY80SI-AH+xF (Belgium (Dutch))

Standard solution SiO2 2500µg/L

Reagents/standard solutions/cleaner for analyzer

CY80SI-AH+xD (Mexico)

Standard solution SiO2 500µg/L

Reagents/standard solutions/cleaner for analyzer

CY80SI-AH+SR (Portugal)

Reagent set (SR) for CA80SI ready to prepare

Reagents/standard solutions/cleaner for analyzer

CY80SI-AH+SH (Slovenia)

Reagent set (SH) for CA80SI

Reagents/standard solutions/cleaner for analyzer

CY80SI-AH+xC (Netherlands)

Standard solution 200µg/L SiO2

Reagents/standard solutions/cleaner for analyzer

CY80SI-AH+SR (Canada (French))

Reagent set (SR) for CA80SI ready to prepare

Reagents/standard solutions/cleaner for analyzer

CY80SI-AH+xE (Poland)

Standard solution SiO2, 1000µg/L

Reagents/standard solutions/cleaner for analyzer

CY80SI-AH+xC (New Zealand)

Standard solution 200µg/L SiO2

Reagents/standard solutions/cleaner for analyzer

CY80SI-AH+xF (Lithuania)

Standard solution SiO2 2500µg/L

Reagents/standard solutions/cleaner for analyzer

CY80SI-AH+xC (Croatia)

Standard solution 200µg/L SiO2

Reagents/standard solutions/cleaner for analyzer

CY80SI-AH+SR (Japan)

Reagent set (SR) for CA80SI ready to prepare

Reagents/standard solutions/cleaner for analyzer

CY80SI-AH+xD (Switzerland)

Standard solution SiO2 500µg/L

Reagents/standard solutions/cleaner for analyzer

CY80SI-AH+SR (Ireland)

Reagent set (SR) for CA80SI ready to prepare

Reagents/standard solutions/cleaner for analyzer

CY80SI-AH+SH (Austria)

Reagent set (SH) for CA80SI

Reagents/standard solutions/cleaner for analyzer

CY80SI-AH+xD (Sweden)

Standard solution SiO2 500µg/L

Reagents/standard solutions/cleaner for analyzer

CY80SI-AH+xD (Ukraine)

Standard solution SiO2 500µg/L

Reagents/standard solutions/cleaner for analyzer

CY80SI-AH+xE (Japan)

Standard solution SiO2, 1000µg/L

Reagents/standard solutions/cleaner for analyzer

CY80SI-AH+xB (Poland)

standard solution, SiO2 50µg/L

Reagents/standard solutions/cleaner for analyzer

CY80SI-AH+xD (Australia)

Standard solution SiO2 500µg/L

Reagents/standard solutions/cleaner for analyzer

CY80SI-AH+SH (China)

Reagent set (SH) for CA80SI

Reagents/standard solutions/cleaner for analyzer

CY80SI-AH+SR (Estonia)

Reagent set (SR) for CA80SI ready to prepare

Reagents/standard solutions/cleaner for analyzer

CY80SI-AH+xC (Poland)

Standard solution 200µg/L SiO2

Reagents/standard solutions/cleaner for analyzer

CY80SI-AH+SH (Portugal)

Reagent set (SH) for CA80SI

Reagents/standard solutions/cleaner for analyzer

CY80SI-AH+SH (Australia)

Reagent set (SH) for CA80SI

Reagents/standard solutions/cleaner for analyzer

CY80SI-AH+xB (Estonia)

standard solution, SiO2 50µg/L

Reagents/standard solutions/cleaner for analyzer

CY80SI-AH+TA (Canada (French))

Standard solution SiO2, 0mg/L

Reagents/standard solutions/cleaner for analyzer

CY80SI-AH+SR (Finland)

Reagent set (SR) for CA80SI ready to prepare

Reagents/standard solutions/cleaner for analyzer

CY80SI-AH+SR (Poland)

Reagent set (SR) for CA80SI ready to prepare

Reagents/standard solutions/cleaner for analyzer

CY80SI-AH+xC (Slovakia)

Standard solution 200µg/L SiO2

Reagents/standard solutions/cleaner for analyzer

CY80SI-AH+xF (India)

Standard solution SiO2 2500µg/L

Reagents/standard solutions/cleaner for analyzer

CY80SI-AH+xF (New Zealand)

Standard solution SiO2 2500µg/L

Reagents/standard solutions/cleaner for analyzer

CY80SI-AH+xB (Lithuania)

standard solution, SiO2 50µg/L

Reagents/standard solutions/cleaner for analyzer

CY80SI-AH+xC (United Arab Emirates)

Standard solution 200µg/L SiO2

Reagents/standard solutions/cleaner for analyzer

CY80SI-AH+xD (European Union)

Standard solution SiO2 500µg/L

Reagents/standard solutions/cleaner for analyzer

CY80SI-AH+xE (Portugal)

Standard solution SiO2, 1000µg/L

Reagents/standard solutions/cleaner for analyzer

CY80SI-AH+TA (Denmark)

Standard solution SiO2, 0mg/L

Reagents/standard solutions/cleaner for analyzer

CY80SI-AH+SR (Switzerland)

Reagent set (SR) for CA80SI ready to prepare

Reagents/standard solutions/cleaner for analyzer

CY80SI-AH+xE (Canada (French))

Standard solution SiO2, 1000µg/L

Reagents/standard solutions/cleaner for analyzer

CY80SI-AH+xB (Germany)

standard solution, SiO2 50µg/L

Reagents/standard solutions/cleaner for analyzer

CY80SI-AH+xC (Russia)

Standard solution 200µg/L SiO2

Reagents/standard solutions/cleaner for analyzer

CY80SI-AH+xF (Greece)

Standard solution SiO2 2500µg/L

Reagents/standard solutions/cleaner for analyzer

CY80SI-AH+TA (United Arab Emirates)

Standard solution SiO2, 0mg/L

Reagents/standard solutions/cleaner for analyzer

CY80SI-AH+xC (Saudi Arabien)

Standard solution 200µg/L SiO2

Reagents/standard solutions/cleaner for analyzer

CY80SI-AH+xF (Mexico)

Standard solution SiO2 2500µg/L

Reagents/standard solutions/cleaner for analyzer

CY80SI-AH+SH (Ireland)

Reagent set (SH) for CA80SI

Reagents/standard solutions/cleaner for analyzer

CY80SI-AH+xC (Slovenia)

Standard solution 200µg/L SiO2

Reagents/standard solutions/cleaner for analyzer

CY80SI-AH+xE (Finland)

Standard solution SiO2, 1000µg/L

Reagents/standard solutions/cleaner for analyzer

CY80SI-AH+TA (Slovakia)

Standard solution SiO2, 0mg/L

Reagents/standard solutions/cleaner for analyzer

CY80SI-AH+xC (Canada)

Standard solution 200µg/L SiO2

Reagents/standard solutions/cleaner for analyzer

CY80SI-AH+xC (Denmark)

Standard solution 200µg/L SiO2

Reagents/standard solutions/cleaner for analyzer

CY80SI-AH+xD (Portugal)

Standard solution SiO2 500µg/L

Reagents/standard solutions/cleaner for analyzer

CY80SI-AH+SH (Russia)

Reagent set (SH) for CA80SI

Reagents/standard solutions/cleaner for analyzer

CY80SI-AH+xE (Norway)

Standard solution SiO2, 1000µg/L

Reagents/standard solutions/cleaner for analyzer

CY80SI-AH+TA (Norway)

Standard solution SiO2, 0mg/L

Reagents/standard solutions/cleaner for analyzer

CY80SI-AH+xB (India)

standard solution, SiO2 50µg/L

Reagents/standard solutions/cleaner for analyzer

CY80SI-AH+xD (Slovenia)

Standard solution SiO2 500µg/L

Reagents/standard solutions/cleaner for analyzer

CY80SI-AH+TA (New Zealand)

Standard solution SiO2, 0mg/L

Reagents/standard solutions/cleaner for analyzer

CY80SI-AH+SH (Hungary)

Reagent set (SH) for CA80SI

Reagents/standard solutions/cleaner for analyzer

CY80SI-AH+SH (United Arab Emirates)

Reagent set (SH) for CA80SI

Reagents/standard solutions/cleaner for analyzer

CY80SI-AH+xF (Slovakia)

Standard solution SiO2 2500µg/L

Reagents/standard solutions/cleaner for analyzer

CY80SI-AH+xE (Canada)

Standard solution SiO2, 1000µg/L

Reagents/standard solutions/cleaner for analyzer

CY80SI-AH+xD (Croatia)

Standard solution SiO2 500µg/L

Reagents/standard solutions/cleaner for analyzer

CY80SI-AH+xE (Australia)

Standard solution SiO2, 1000µg/L

Reagents/standard solutions/cleaner for analyzer

CY80SI-AH+xE (Mexico)

Standard solution SiO2, 1000µg/L

Reagents/standard solutions/cleaner for analyzer

CY80SI-AH+SH (Netherlands)

Reagent set (SH) for CA80SI

Reagents/standard solutions/cleaner for analyzer

CY80SI-AH+xE (Latvia)

Standard solution SiO2, 1000µg/L

Reagents/standard solutions/cleaner for analyzer

CY80SI-AH+xC (Japan)

Standard solution 200µg/L SiO2

Reagents/standard solutions/cleaner for analyzer

CY80SI-AH+xB (Switzerland (Italian))

standard solution, SiO2 50µg/L

Reagents/standard solutions/cleaner for analyzer

CY80SI-AH+xC (Bulgaria)

Standard solution 200µg/L SiO2

Reagents/standard solutions/cleaner for analyzer

CY80SI-AH+xC (Turkey)

Standard solution 200µg/L SiO2

Reagents/standard solutions/cleaner for analyzer

CY80SI-AH+xC (Germany)

Standard solution 200µg/L SiO2

Reagents/standard solutions/cleaner for analyzer

CY80SI-AH+xB (Bulgaria)

standard solution, SiO2 50µg/L

Reagents/standard solutions/cleaner for analyzer

CY80SI-AH+SH (Poland)

Reagent set (SH) for CA80SI

Reagents/standard solutions/cleaner for analyzer

CY80SI-AH+TA (Finland)

Standard solution SiO2, 0mg/L

Reagents/standard solutions/cleaner for analyzer

CY80SI-AH+xC (Belgium)

Standard solution 200µg/L SiO2

Reagents/standard solutions/cleaner for analyzer

CY80SI-AH+SR (United Arab Emirates)

Reagent set (SR) for CA80SI ready to prepare

Reagents/standard solutions/cleaner for analyzer

CY80SI-AH+SR (Denmark)

Reagent set (SR) for CA80SI ready to prepare

Reagents/standard solutions/cleaner for analyzer

CY80SI-AH+xB (Switzerland)

standard solution, SiO2 50µg/L

Reagents/standard solutions/cleaner for analyzer

CY80SI-AH+SH (India)

Reagent set (SH) for CA80SI

Reagents/standard solutions/cleaner for analyzer

CY80SI-AH+xC (China)

Standard solution 200µg/L SiO2

Reagents/standard solutions/cleaner for analyzer

CY80SI-AH+xD (United Arab Emirates)

Standard solution SiO2 500µg/L

Reagents/standard solutions/cleaner for analyzer

CY80SI-AH+SH (Malta)

Reagent set (SH) for CA80SI

Reagents/standard solutions/cleaner for analyzer

CY80SI-AH+TA (Spain)

Standard solution SiO2, 0mg/L

Reagents/standard solutions/cleaner for analyzer

CY80SI-AH+SH (USA)

Reagent set (SH) for CA80SI

Reagents/standard solutions/cleaner for analyzer

CY80SI-AH+SH (Brasilien)

Reagent set (SH) for CA80SI

Reagents/standard solutions/cleaner for analyzer

CY80SI-AH+xE (Hungary)

Standard solution SiO2, 1000µg/L

Reagents/standard solutions/cleaner for analyzer

CY80SI-AH+TA (Australia)

Standard solution SiO2, 0mg/L

Reagents/standard solutions/cleaner for analyzer

CY80SI-AH+SR (USA)

Reagent set (SR) for CA80SI ready to prepare

Reagents/standard solutions/cleaner for analyzer

New Analyzer Platform

Produkt kode: CA80SI-
erklæring nummer: EC_00719_01.18

Viomax, UV, Turbimax, TURBIDITY AND TOTAL SUSPENDED SOLIDS, TOCII, Stip-Scan, Stamolys, SPECTROMETER, OxyMax W, OxyMax H, New Analyzer Platform, Liquistation M, Liquiport, Isemax, Cell growth, Absorbance

Produkt kode: CAS40D-, CAS51D-, CAS74-, CAS80E-, CKF50-, CKI50-, COS22D-, COS31-, COS41-, COS51D-, COS61-, COS61D-, COS81D-, CSF48-, CSP44-, CUS50D-, CUS51D-, CUS52D-, CVF52-, CVI52-, OUSAF11-, OUSAF12-, OUSAF21-, OUSAF22-, OUSAF46-, OUSBT66-, OUSTF10-, CAM74-, CA71AL-, CA71AM-, CA71CL-, CA71COD-, CA71CR-, CA71CU-, CA71FE-, CA71HA-, CA71HY-, CA71MN-, CA71NO-, CA71PH-, CA71SI-, CA72TOC-, CA76NA-, CA80AL-, CA80AM-, CA80COD-, CA80CR-, CA80FE-, CA80HA-, CA80MN-, CA80NO-, CA80PH-, CA80SI-, CA80TN-, CA80TP-
Region: Russia (Declaration of Conformity)
Godkjenningsnummer: EAEC D-DE.AD07.B.01363/19

Viomax, UV, Turbimax, TURBIDITY AND TOTAL SUSPENDED SOLIDS, TOCII, Stip-Scan, Stamolys, SPECTROMETER, OxyMax W, OxyMax H, New Analyzer Platform, Liquistation M, Liquiport, Isemax, Cell growth, Absorbance

Produkt kode: CAM74-, CAS40D-, CAS51D-, CAS74-, CAS80E-, CKF50-, CKI50-, COS22D-, COS31-, COS41-, COS51D-, COS61-, COS61D-, COS81D-, CSF48-, CSP44-, CUS50D-, CUS51D-, CUS52D-, CVF52-, CVI52-, OUSAF11-, OUSAF12-, OUSAF22-, OUSAF46-, OUSBT66-, OUSTF10-, CA70SI-, CA71AL-, CA71AM-, CA71CL-, CA71CR-, CA71CU-, CA71FE-, CA71HA-, CA71HY-, CA71MN-, CA71NO-, CA71PH-, CA71SI-, CA72TOC-, CA76NA-, CA80AL-, CA80AM-, CA80COD-, CA80CR-, CA80FE-, CA80HA-, CA80MN-, CA80NO-, CA80PH-, CA80SI-, CA80TN-, CA80TP-
Godkjenningsnummer: EAEC RU D-DE.AD07.B.01362/19

ACCESSORIES: COLORIMETRIC, New Analyzer Platform

Produkt kode: CA80TP-, CA80TN-, CA80SI-, CA80PHY-, CA80PHB-, CA80PH-, CA80NO-, CA80NA-, CA80MN-, CA80HA-, CA80FE-, CA80CR-, CA80COD-, CA80AM-, CA80AL-
Software Version: 01.07

Turbimax, TopHit, OxyMax W, OxyMax H, OrbiSint, OrbiPore, OrbiPac, New Analyzer Platform, Memosens, InduMax P, InduMax H, ConduMax W, ConduMax H, Chloromax, Ceramax, CeraLiquid, CeraGel

Produkt kode: CPS171D-, CPS31D-, CPS341D-, CPS41D-, CPS41E-, CPS42D-, CPS441D-, CPS471D-, CPS47D-, CPS491D-, CPS71D-, CPS71E-, CPS72D-, CPS76D-, CPS77D-, CPS91D-, CPS91E-, CPS92D-, CPS96D-, CPS97D-, CUS50D-, CUS51D-, CUS52D-, CA80HA-, CA80SI-, CCS120D-, CCS142D-, CCS50D-, CCS51D-, CLS15D-, CLS16D-, CLS21D-, CLS50D-, CLS54D-, CLS82D-, COS22D-, COS51D-, COS61D-, COS81D-, CPF81D-, CPF82D-, CPS11D-, CPS11E-, CPS12D-, CPS12E-, CPS16D-
Region: Russia
Godkjenningsnummer: OC.C.31.004.A NO 75181

New Analyzer Platform

Produkt kode: CA80AL-, CA80PH-, CA80CR-, CA80FE-, CA80NO-, CA80HA-, CA80AM-, CA80SI-, CA80MN-
Region: Canada, USA
Godkjenningsinstitusjon: CSA

Ordinary Location Product Safety
Tilbehør / reservedeler
Maintenance booklet CA80xx for download

Reagent / Standard solution CY80SI

Reagent set for CA80SI with long shelf life or standard solution Contains dangerous goods

CAV800 Maintenance kit Liquisystem CA8x

Kits with all maintenance parts for Liquiline System CA8x analyzers Content: dispensers, hoses, connectors, O-ring for the sample collector, filter mats. Optional: in-and outlet hoses(PA), Liquidmanager without motor (PT) or 2 sample collector beakers(PV)

Kit: display cable

CM442/CM444/CM448/CSF48

Kit CA80SI capillaries incl. mounting

Kit CA80SI photometer cuvette

Kit CA80SI filter complete

Kit CA 15m hose Norprene ID 1.6mm

Kit CA 7.5m hose C-Flex ID 3.2mm

Safety bottle plastic black 1l

Safety bottle plastic without colour 1l

Nr

321

Order code

71141366

Kit module extention backplane

CM444/CM448/CSF48

Nr

146

Order code

71218507

Kit CA8x: Interface module CM44

Nr

146

Order code

71465480

Kit CA8x interface module vers. 2

For installation in CA80 with BASE2-E module, backplane V2 and control module V2. Firmware 01.08.00 or newer needed!

Additional Liquline modules

Kit: module 2DS

2x digital sensor CM442 / CM444 / CM448 / CSF48 CM442R / CM444R / CM448R

Kit: module DIO

2x digital in, 2x digital out CM442 / CM444 / CM448 / CSF48 CM442R / CM444R / CM448R

Kit : module AOR

2x Relay, 2x 0/4..20mA Out CM442 / CM444 / CM448 / CSF48 CM442R / CM444R / CM448R

Kit: module 2R

2x Relay CM442 / CM444 / CM448 / CSF48 CM442R / CM444R / CM448R

Kit: module 4R

4x Relay CM442 / CM444 / CM448 / CSF48

Kit: module 2AO

2x 0/4..20mA Out CM442 / CM444 / CM448 / CSF48 CM442R / CM444R / CM448R

Kit: module 4AO

4x 0/4..20mA Out CM442 / CM444 / CM448 / CSF48 CM442R / CM444R / CM448R

Kit: module 2AI

2x 0/4..20mA In CM442 / CM444 / CM448 / CSF48 CM442R / CM444R / CM448R

Kit: module ETH

(+Webserver) extendable via upgrade code to Modbus TCP or EtherNet/IP CM442/CM444/CM448/CSF48 CM442R/CM444R/CM448R

Kit: module 485

(+Webserver) Extendable via upgrade code to Profibus DP or Modbus RS485 or Modbus TCP or EtherNet/IP CM442/CM444/CM448/CSF48 CM442R/CM444R/CM448R

Kit: 1x set of terminals basic module

CM442/CM444/CM448/CSF48/CSP44

Kit: 1x set of terminals module AOR

CM442/CM444/CM448/CSF48

Kit: 1x set of terminals module 4R

CM442/CM444/CM448/CSF48

Kit: 1x set of terminals module 4AO

CM442/CM444/CM448/CSF48

Kit: 1x set of terminals module 2xAI,485

CM442/CM444/CM448/CSF48

Kit: 1x set of terminals module DIO

Upgrade kits digital communication

Upgrade Kit: Modul ETH + Modbus TCP

(+Webserver) CM442/CM444/CM448/CSF48 CM442R/CM444R/CM448R

Upgrade Kit: Modul ETH + EtherNet/IP

(+Webserver) CM442/CM444/CM448/CSF48 CM442R/CM444R/CM448R

Upgrade Kit: Modul 485 + Profibus DP

(+Webserver) CM442/CM444/CM448/CSF48 CM442R/CM444R/CM448R

Upgrade Kit: Modul 485 + Modbus RS485

(+Webserver) CM442/CM444/CM448/CSF48 CM442R/CM444R/CM448R

Activation codes for communication

Kit CA80xx: 1x digital sensor inputs

Kit CA80xx: 2x digital sensor inputs

Upgrade code: Webserver for BASE2

Upgr.code:EtherNet/IP+Webserver f. BASE2

Upgr.code: Modbus TCP+Webserver f. BASE2

Upgr.code: PROFINET+Webserver for BASE2

Upgrade code: Modbus TCP f.module ETH

Enter this code to change active fieldbus protocol to Modbus TCP (provide serial number of device) CM442/CM444/CM448/CSF48 CM442R/CM444R/CM448R

Upgrade code: EtherNet/IP for module ETH

Enter this code to change active fieldbus protocol to EtherNet/IP (provide serial number of device) CM442/CM444/CM448/CSF48 CM442R/CM444R/CM448R

Upgrade code: Profibus DP f. module 485

Enter this code to change active fieldbus protocol to Profibus DP (provide serial number of device) CM442 / CM444 / CM448 / CSF48 CM442R / CM444R / CM448R

Upgrade code: Modbus RS 485 f.module 485

Enter this code to change active fieldbus protocol to Modbus RS485 (provide serial number of device) CM442 / CM444 / CM448 / CSF48 CM442R / CM444R / CM448R

Upgrade code: EtherNet/IP f.module 485

Enter this code to change active fieldbus protocol to EtherNet/IP (provide serial number of device) CM442/CM444/CM448/CSF48 CM442R/CM444R/CM448R