Chromate analyzer
Liquiline System CA80CR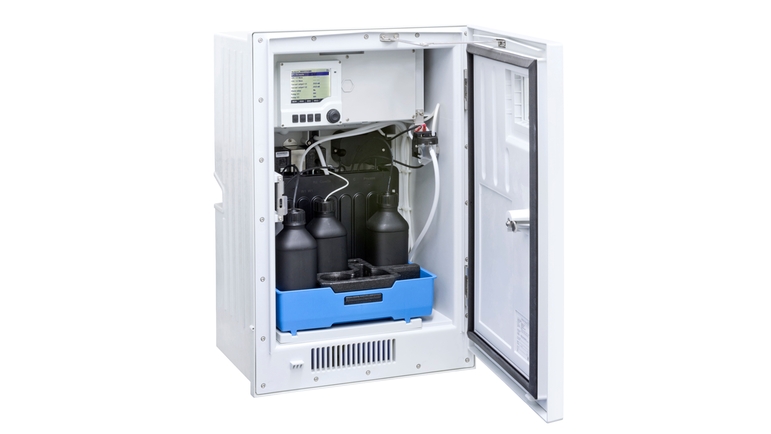 Colorimetric system for the monitoring of industrial wastewater and optimization of process control
Liquiline System CA80CR offers highly accurate online measurement for optimized chromate removal in industrial wastewater. It supports you in achieving environmentally compliant electroplating and tanning processes. Like all Liquiline System analyzers, CA80CR enables plug & play of up to four Memosens sensors - minimizing the installation effort. Automatic calibration and cleaning plus advanced diagnostics with remote access ensure consistent process safety.
Enkle produkter

Enkelt å velge, intallere og bruke
Tekniske egenskaper
Enkelhet
Standardprodukter

Pålitelige, robuste og lette å vedlikeholde
Tekniske egenskaper
Enkelhet
High- end produkter

Høyst funksjonelle og praktiske
Tekniske egenskaper
Enkelhet
Spesialprodukter

Designet for krevende applikasjoner
Tekniske egenskaper
Enkelhet
FLEX utvalget
Tekniske egenskaper
Enkelhet

Fundamental utvalg

Møter dine grunleggende målebehov

Tekniske egenskaper

Enkelhet

Lean utvalg

Håndter henkelt dine kjerneprosesser

Tekniske egenskaper

Enkelhet

Extended utvalg

Optimaliser prosessene dine med innovative teknologier

Tekniske egenskaper

Enkelhet

Xpert utvalg

Mestre de mest utfordrende applikasjonene dine

Tekniske egenskaper

Enkelhet
Spesifikasjonene kort oppsummert

Measurement range

0,03 to 2.5 mg/l Cr(VI)
0.2 to 5.0 mg/l Cr(VI)
0.2 to 5.0 mg/l with dilution function to maximum 10 to 250 mg/l Cr(VI)

Process temperature

4 to 40 °C (39 to 104 °F)

Process pressure

At atmospheric pressure, < 0.2 bar absolute
Loading alternative products
Hurtigvalg
Velg ett av våre foreslåtte alternative
individuell konfigurasjon
Fortsett for å velge blant alle mulige alternativer
Ekstra komponenter

Fordeler

Standardized colorimetric measuring principle - diphenyle carbazide method - guarantees compliance with discharge regulations.

Reduced operating costs through automatic calibration and cleaning and low reagent consumption.

Simple maintenance: no tools...
Bruksområde

Liquiline System CA80CR supports you in improving the environmental performance of your processes by:

Monitoring and optimizing the cleaning capacity of industrial wastewater treatment plants.

Effluent monitoring in tanneries and electroplating plants.

...
Dokumenter / håndbøker / programvare
Liquiline System CA80CR

Colorimetric analyzer for chromate (Cr(VI))

Technical Information (TI)

Memosens Operating Instructions

Sensor inputs with Memosens protocol

Operating Instruction (BA)

Liquiline System CA80CR

Colorimetric analyzer for chromate (Cr(VI))

Operating Instruction (BA)

Liquiline System CA80CR

Kolorimetrisk analysator for kromat

Short Instruction (KA)

02/20

Kit CA80 Outdoor

Kit for mounting analyzer on a post outdoor

Installation Instructions (EA)

CM44x/R/P / CSFxx / CA80xx

Webserver Guideline

Special Documentation (SD)

CM44x/R/P / CSFxx / CA80xx

PROFIBUS Guideline

Special Documentation (SD)

Special Documentation Liquiline 4-wire Platform

Modbus Guideline

Special Documentation (SD)

Activation codes kit

For extended functionality

Special Documentation (SD)

Special Documentation Liquiline 4-wire Platform

EtherNet/IP guideline

Special Documentation (SD)

Analyzers, in-situ sensors and samplers

Experts in Liquid Analysis

Fields of Activities (FA)

11/18

Analysatoren, In-Situ-Sensoren und Probenehmer

Kompetenz in Flüssigkeitsanalyse

Fields of Activities (FA)

11/18

Analizzatori, sensori in loco e campionatori

Esperti nell'analisi dei liquidi

Fields of Activities (FA)

11/18

Catálogo Analizadores

Analizadores, sensores y tomamuestras in situ

Fields of Activities (FA)

11/18

Analizzatori, sensori in loco e campionatori

Esperti nell'analisi dei liquidi

Fields of Activities (FA)

03/17

Analyseurs, capteurs in situ et préleveurs

Experts en analyses physico-chimiques

Fields of Activities (FA)

02/19

Einleitergrenzwerte im Griff

Liquiline System CA80CR Chromatanalysator und Probenaufbereitung

Discharge limits under control

American version: Liquiline System CA80CR chromate analyzer and sample
preparation
systems

Cromatanalysator 
Liquiline System CA80CR

Colorimetrischer Analyser für Nitrit (No2) für die Überwachung von
Trinkwasser und
Mineralwasserabfüllung, sowie zur Qualitätssicherung des Rohwasser in
der
Nahrungsmittelindustrie

Firmware for Liquiline platform - version 01.08.00

Firmware for Liquiline CM44(R), Liquiline CM44P(R), Liquistation CSF34,
Liquistation CSF48, Liquiport CSP44, Liquiline System CA80

GSD Single, GSD_EH_DP_AN_LiquilineCA80xx_0x155E, 29.06.2020 (Analysis, Liquiline, 0x155E)

PROFIBUS DP,

PROFIBUS System Version: Any

Step 7 TIA Portal Version: 15.1

Step7-300 Version: 5.6.0.2

General Station Description (GSD)

1.30

GSD Single, GSD_PN_AN_Liquiline_0x859F_0x01, 22.03.2021 (Analysis, Liquiline, 0x859F)

PROFINET,

PROFINET System Version: Any

General Station Description (GSD)

1.00.00

EDS Single, EDS_EH_EIP_AN_Liquiline_0x109F_0x02_0x01, 30.07.2016 (Analysis, Liquiline)

EtherNet/IP,

EtherNet IP System Version: Any

Electronic Data Sheet (EDS)

2.1

EDD Single, PDM_DP_AN_Liquiline_0x155E_0x04_0x01, 05.08.2016 (Analysis, Liquiline, 0x155E)

PROFIBUS DP,

PDM Version: 6.1, 8.2

Electronic Data Description (EDD)

1.00.00

DTM Single, Liquiline_CA80xx_DP_FW_01_06_zz_Dev_Rev_4, 06.11.2020 (Analysis, Liquiline, 0x155E)

PROFIBUS DP,

DeviceCare Version: 1.07.00

Field Xpert - SMT70 Version: 1.05.00

FieldCare Version: 2.15.00

PACTware Version: 4.1

Device Type Manager (DTM)

1.11.0.0

DTM Single, Liquiline_CA80xx_DP_FW_01_07_zz_Dev_Rev_4, 06.11.2020 (Analysis, Liquiline, 0x155E)

PROFIBUS DP,

DeviceCare Version: 1.07.00

Field Xpert - SMT70 Version: 1.05.00

FieldCare Version: 2.15.00

PACTware Version: 5.0

Device Type Manager (DTM)

1.11.0.0

DTM Single, Liquiline_CA80xx_CDI_FW_1_06_zz_Dev_Rev_01, 18.11.2020 (Analysis, Liquiline, 0x119F)

Common Device Interface,

DeviceCare Version: 1.07.00

Field Xpert - SMT70 Version: 1.05.00

FieldCare Version: 2.15.00

Device Type Manager (DTM)

1.0.14.0

AOP Single, RS_EIP_AN_Liquiline_CA80xx_0x109F_0x02_0x01_AOP, 10.02.2021 (Analysis, Liquiline)

EtherNet/IP,

RA RSLogix 5000 Version: V15 and later

Add On Profile (AOP)

1.23.01

Certificate Single, Certificate_PN_AN_Liquiline_0x859F_1_8_0, 02.03.2021 (Analysis, Liquiline, 0x85

PROFINET,

PROFINET System Version: Any

ComDTM Single, CDI_CommDTM, 02.12.2019

Common Device Interface,

DeviceCare Version: 1.05.00

FieldCare Version: 2.13.00

Communication DTM

2.09.07

Colorimetric measuring principle

Nutrients, metals or carbon components in a liquid can be measured using
the colorimetric measuring principle with or without digestion. This
video shows what it is about and how this measuring principle work.

Kolorimetrisches Messprinzip

Mit Hilfe des kolorimetrischen Messprinzips mit oder ohne Aufschluss
können Nährstoffe, Metalle oder Kohlenstoffe in einer Flüssigkeit
gemessen werden. Dieses Video zeigt, worum es dabei geht und wie
dieses Messprinzip funktioniert.

CY80CR-AF+TV (Norway)

Standard solution Cr (VI) 250 mg/l

Reagents/standard solutions/cleaner for analyzer

CY80CR-AF+TG (New Zealand)

Standard solution Cr (VI) 0 mg/l

Reagents/standard solutions/cleaner for analyzer

CY80CR-AF+SG (Norway)

Reagent set (SG) for CA80CR

Reagents/standard solutions/cleaner for analyzer

CY80CR-AF+TG (Norway)

Standard solution Cr (VI) 0 mg/l

Reagents/standard solutions/cleaner for analyzer

CY80CR-AF+TL (Switzerland)

Standard solution Cr (VI) 1,0 mg/l

Reagents/standard solutions/cleaner for analyzer

CY800-AFx1 (Hungary)

Cleaning solution for CA80CR

Reagents/standard solutions/cleaner for analyzer

CY80CR-AF+TM (Turkey)

Standard solution Cr (VI) 2,0 mg/l

Reagents/standard solutions/cleaner for analyzer

CY80CR-AF+SG (Australia)

Reagent set (SG) for CA80CR

Reagents/standard solutions/cleaner for analyzer

CY80CR-AF+TM (Bulgaria)

Standard solution Cr (VI) 2,0 mg/l

Reagents/standard solutions/cleaner for analyzer

CY80CR-AF+TV (Malta)

Standard solution Cr (VI) 250 mg/l

Reagents/standard solutions/cleaner for analyzer

CY80CR-AF+TO (Denmark)

Standard solution Cr (VI) 4,0 mg/l

Reagents/standard solutions/cleaner for analyzer

CY800-AFx1 (USA)

Cleaning solution for CA80CR

Reagents/standard solutions/cleaner for analyzer

CY80CR-AF+SG (Portugal)

Reagent set (SG) for CA80CR

Reagents/standard solutions/cleaner for analyzer

CY80CR-AF+TL (Switzerland (French))

Standard solution Cr (VI) 1,0 mg/l

Reagents/standard solutions/cleaner for analyzer

CY80CR-AF+TV (Belgium (Dutch))

Standard solution Cr (VI) 250 mg/l

Reagents/standard solutions/cleaner for analyzer

CY80CR-AF+TL (Portugal)

Standard solution Cr (VI) 1,0 mg/l

Reagents/standard solutions/cleaner for analyzer

CY80CR-AF+TO (United Arab Emirates)

Standard solution Cr (VI) 4,0 mg/l

Reagents/standard solutions/cleaner for analyzer

CY80CR-AF+TL (South Korea)

Standard solution Cr (VI) 1,0 mg/l

Reagents/standard solutions/cleaner for analyzer

CY80CR-AF+TG (Canada (French))

Standard solution Cr (VI) 0 mg/l

Reagents/standard solutions/cleaner for analyzer

CY80CR-AF+TM (Netherlands)

Standard solution Cr (VI) 2,0 mg/l

Reagents/standard solutions/cleaner for analyzer

CY80CR-AF+TO (Slovenia)

Standard solution Cr (VI) 4,0 mg/l

Reagents/standard solutions/cleaner for analyzer

CY80CR-AF+TV (Hungary)

Standard solution Cr (VI) 250 mg/l

Reagents/standard solutions/cleaner for analyzer

CY80CR-AF+SG (Canada)

Reagent set (SG) for CA80CR

Reagents/standard solutions/cleaner for analyzer

CY80CR-AF+TM (Latvia)

Standard solution Cr (VI) 2,0 mg/l

Reagents/standard solutions/cleaner for analyzer

CY80CR-AF+TO (Ireland)

Standard solution Cr (VI) 4,0 mg/l

Reagents/standard solutions/cleaner for analyzer

CY80CR-AF+TO (Portugal)

Standard solution Cr (VI) 4,0 mg/l

Reagents/standard solutions/cleaner for analyzer

CY80CR-AF+TG (Lithuania)

Standard solution Cr (VI) 0 mg/l

Reagents/standard solutions/cleaner for analyzer

CY80CR-AF+TV (Spain)

Standard solution Cr (VI) 250 mg/l

Reagents/standard solutions/cleaner for analyzer

CY80CR-AF+SG (Sweden)

Reagent set (SG) for CA80CR

Reagents/standard solutions/cleaner for analyzer

CY80CR-AF+TO (Netherlands)

Standard solution Cr (VI) 4,0 mg/l

Reagents/standard solutions/cleaner for analyzer

CY800-AFx1 (Russia)

Cleaning solution for CA80CR

Reagents/standard solutions/cleaner for analyzer

CY80CR-AF+SG (United Arab Emirates)

Reagent set (SG) for CA80CR

Reagents/standard solutions/cleaner for analyzer

CY80CR-AF+TO (Estonia)

Standard solution Cr (VI) 4,0 mg/l

Reagents/standard solutions/cleaner for analyzer

CY80CR-AF+TM (Ireland)

Standard solution Cr (VI) 2,0 mg/l

Reagents/standard solutions/cleaner for analyzer

CY80CR-AF+SG (Netherlands)

Reagent set (SG) for CA80CR

Reagents/standard solutions/cleaner for analyzer

CY80CR-AF+SG (Japan)

Reagent set (SG) for CA80CR

Reagents/standard solutions/cleaner for analyzer

CY80CR-AF+TV (Belgium)

Standard solution Cr (VI) 250 mg/l

Reagents/standard solutions/cleaner for analyzer

CY80CR-AF+TO (Austria)

Standard solution Cr (VI) 4,0 mg/l

Reagents/standard solutions/cleaner for analyzer

CY80CR-AF+TV (Japan)

Standard solution Cr (VI) 250 mg/l

Reagents/standard solutions/cleaner for analyzer

CY80CR-AF+TG (Germany)

Standard solution Cr (VI) 0 mg/l

Reagents/standard solutions/cleaner for analyzer

CY800-AFx1 (China)

Cleaning solution for CA80CR

Reagents/standard solutions/cleaner for analyzer

CY80CR-AF+TV (Estonia)

Standard solution Cr (VI) 250 mg/l

Reagents/standard solutions/cleaner for analyzer

CY80CR-AF+TL (Finland)

Standard solution Cr (VI) 1,0 mg/l

Reagents/standard solutions/cleaner for analyzer

CY80CR-AF+TL (Romania)

Standard solution Cr (VI) 1,0 mg/l

Reagents/standard solutions/cleaner for analyzer

CY80CR-AF+TV (South Africa)

Standard solution Cr (VI) 250 mg/l

Reagents/standard solutions/cleaner for analyzer

CY80CR-AF+TL (Norway)

Standard solution Cr (VI) 1,0 mg/l

Reagents/standard solutions/cleaner for analyzer

CY80CR-AF+TO (Finland)

Standard solution Cr (VI) 4,0 mg/l

Reagents/standard solutions/cleaner for analyzer

CY80CR-AF+TL (Belgium (Dutch))

Standard solution Cr (VI) 1,0 mg/l

Reagents/standard solutions/cleaner for analyzer

CY80CR-AF+TM (United Arab Emirates)

Standard solution Cr (VI) 2,0 mg/l

Reagents/standard solutions/cleaner for analyzer

CY800-AFx1 (United Arab Emirates)

Cleaning solution for CA80CR

Reagents/standard solutions/cleaner for analyzer

CY80CR-AF+TG (Ireland)

Standard solution Cr (VI) 0 mg/l

Reagents/standard solutions/cleaner for analyzer

CY80CR-AF+TV (Czech Republic)

Standard solution Cr (VI) 250 mg/l

Reagents/standard solutions/cleaner for analyzer

CY80CR-AF+TO (India)

Standard solution Cr (VI) 4,0 mg/l

Reagents/standard solutions/cleaner for analyzer

CY80CR-AF+TL (Russia)

Standard solution Cr (VI) 1,0 mg/l

Reagents/standard solutions/cleaner for analyzer

CY80CR-AF+SG (USA)

Reagent set (SG) for CA80CR

Reagents/standard solutions/cleaner for analyzer

CY80CR-AF+TL (Sweden)

Standard solution Cr (VI) 1,0 mg/l

Reagents/standard solutions/cleaner for analyzer

CY80CR-AF+TM (Finland)

Standard solution Cr (VI) 2,0 mg/l

Reagents/standard solutions/cleaner for analyzer

CY80CR-AF+TL (Ukraine)

Standard solution Cr (VI) 1,0 mg/l

Reagents/standard solutions/cleaner for analyzer

CY80CR-AF+SG (China)

Reagent set (SG) for CA80CR

Reagents/standard solutions/cleaner for analyzer

CY80CR-AF+TG (United Arab Emirates)

Standard solution Cr (VI) 0 mg/l

Reagents/standard solutions/cleaner for analyzer

CY80CR-AF+SG (Italy)

Reagent set (SG) for CA80CR

Reagents/standard solutions/cleaner for analyzer

CY80CR-AF+TV (Ireland)

Standard solution Cr (VI) 250 mg/l

Reagents/standard solutions/cleaner for analyzer

CY80CR-AF+TV (Mexico)

Standard solution Cr (VI) 250 mg/l

Reagents/standard solutions/cleaner for analyzer

CY80CR-AF+TO (Hungary)

Standard solution Cr (VI) 4,0 mg/l

Reagents/standard solutions/cleaner for analyzer

CY800-AFx1 (Belgium (Dutch))

Cleaning solution for CA80CR

Reagents/standard solutions/cleaner for analyzer

CY80CR-AF+TV (Russia)

Standard solution Cr (VI) 250 mg/l

Reagents/standard solutions/cleaner for analyzer

CY80CR-AF+TG (Latvia)

Standard solution Cr (VI) 0 mg/l

Reagents/standard solutions/cleaner for analyzer

CY80CR-AF+TG (Hungary)

Standard solution Cr (VI) 0 mg/l

Reagents/standard solutions/cleaner for analyzer

CY80CR-AF+TL (Belgium)

Standard solution Cr (VI) 1,0 mg/l

Reagents/standard solutions/cleaner for analyzer

CY80CR-AF+TG (Switzerland (Italian))

Standard solution Cr (VI) 0 mg/l

Reagents/standard solutions/cleaner for analyzer

CY800-AFx1 (European Union)

Cleaning solution for CA80CR

Reagents/standard solutions/cleaner for analyzer

CY80CR-AF+TV (Latvia)

Standard solution Cr (VI) 250 mg/l

Reagents/standard solutions/cleaner for analyzer

CY80CR-AF+TG (Canada)

Standard solution Cr (VI) 0 mg/l

Reagents/standard solutions/cleaner for analyzer

CY80CR-AF+SG (Hungary)

Reagent set (SG) for CA80CR

Reagents/standard solutions/cleaner for analyzer

CY80CR-AF+TM (Sweden)

Standard solution Cr (VI) 2,0 mg/l

Reagents/standard solutions/cleaner for analyzer

CY80CR-AF+TV (India)

Standard solution Cr (VI) 250 mg/l

Reagents/standard solutions/cleaner for analyzer

CY80CR-AF+TV (Switzerland (Italian))

Standard solution Cr (VI) 250 mg/l

Reagents/standard solutions/cleaner for analyzer

CY80CR-AF+TM (Belgium)

Standard solution Cr (VI) 2,0 mg/l

Reagents/standard solutions/cleaner for analyzer

CY80CR-AF+SG (Switzerland (French))

Reagent set (SG) for CA80CR

Reagents/standard solutions/cleaner for analyzer

CY80CR-AF+TM (Slovenia)

Standard solution Cr (VI) 2,0 mg/l

Reagents/standard solutions/cleaner for analyzer

CY80CR-AF+TO (United Arab Emirates)

Standard solution Cr (VI) 4,0 mg/l

Reagents/standard solutions/cleaner for analyzer

CY80CR-AF+TV (Bulgaria)

Standard solution Cr (VI) 250 mg/l

Reagents/standard solutions/cleaner for analyzer

CY80CR-AF+TO (Belgium)

Standard solution Cr (VI) 4,0 mg/l

Reagents/standard solutions/cleaner for analyzer

CY800-AFx1 (United Kingdom)

Cleaning solution for CA80CR

Reagents/standard solutions/cleaner for analyzer

CY80CR-AF+SG (European Union)

Reagent set (SG) for CA80CR

Reagents/standard solutions/cleaner for analyzer

CY80CR-AF+TO (USA)

Standard solution Cr (VI) 4,0 mg/l

Reagents/standard solutions/cleaner for analyzer

CY80CR-AF+TM (USA)

Standard solution Cr (VI) 2,0 mg/l

Reagents/standard solutions/cleaner for analyzer

CY80CR-AF+TO (Switzerland (Italian))

Standard solution Cr (VI) 4,0 mg/l

Reagents/standard solutions/cleaner for analyzer

CY80CR-AF+SG (Austria)

Reagent set (SG) for CA80CR

Reagents/standard solutions/cleaner for analyzer

CY80CR-AF+TL (Malta)

Standard solution Cr (VI) 1,0 mg/l

Reagents/standard solutions/cleaner for analyzer

CY800-AFx1 (Germany)

Cleaning solution for CA80CR

Reagents/standard solutions/cleaner for analyzer

CY80CR-AF+TO (South Korea)

Standard solution Cr (VI) 4,0 mg/l

Reagents/standard solutions/cleaner for analyzer

CY80CR-AF+TL (Mexico)

Standard solution Cr (VI) 1,0 mg/l

Reagents/standard solutions/cleaner for analyzer

CY80CR-AF+TM (China)

Standard solution Cr (VI) 2,0 mg/l

Reagents/standard solutions/cleaner for analyzer

CY80CR-AF+TL (Slovakia)

Standard solution Cr (VI) 1,0 mg/l

Reagents/standard solutions/cleaner for analyzer

CY80CR-AF+TV (Netherlands)

Standard solution Cr (VI) 250 mg/l

Reagents/standard solutions/cleaner for analyzer

CY80CR-AF+TG (Austria)

Standard solution Cr (VI) 0 mg/l

Reagents/standard solutions/cleaner for analyzer

CY80CR-AF+TL (South Africa)

Standard solution Cr (VI) 1,0 mg/l

Reagents/standard solutions/cleaner for analyzer

CY80CR-AF+TM (Estonia)

Standard solution Cr (VI) 2,0 mg/l

Reagents/standard solutions/cleaner for analyzer

CY80CR-AF+TG (Finland)

Standard solution Cr (VI) 0 mg/l

Reagents/standard solutions/cleaner for analyzer

CY800-AFx1 (Croatia)

Cleaning solution for CA80CR

Reagents/standard solutions/cleaner for analyzer

CY80CR-AF+TM (Ukraine)

Standard solution Cr (VI) 2,0 mg/l

Reagents/standard solutions/cleaner for analyzer

CY80CR-AF+TL (New Zealand)

Standard solution Cr (VI) 1,0 mg/l

Reagents/standard solutions/cleaner for analyzer

CY800-AFx1 (Canada (French))

Cleaning solution for CA80CR

Reagents/standard solutions/cleaner for analyzer

CY80CR-AF+TG (Greece)

Standard solution Cr (VI) 0 mg/l

Reagents/standard solutions/cleaner for analyzer

CY80CR-AF+TO (Switzerland)

Standard solution Cr (VI) 4,0 mg/l

Reagents/standard solutions/cleaner for analyzer

CY80CR-AF+TM (United Kingdom)

Standard solution Cr (VI) 2,0 mg/l

Reagents/standard solutions/cleaner for analyzer

CY80CR-AF+TM (South Africa)

Standard solution Cr (VI) 2,0 mg/l

Reagents/standard solutions/cleaner for analyzer

CY80CR-AF+TL (Saudi Arabien)

Standard solution Cr (VI) 1,0 mg/l

Reagents/standard solutions/cleaner for analyzer

CY80CR-AF+TO (New Zealand)

Standard solution Cr (VI) 4,0 mg/l

Reagents/standard solutions/cleaner for analyzer

CY80CR-AF+TL (India)

Standard solution Cr (VI) 1,0 mg/l

Reagents/standard solutions/cleaner for analyzer

CY80CR-AF+TO (Czech Republic)

Standard solution Cr (VI) 4,0 mg/l

Reagents/standard solutions/cleaner for analyzer

CY80CR-AF+TM (United Arab Emirates)

Standard solution Cr (VI) 2,0 mg/l

Reagents/standard solutions/cleaner for analyzer

CY80CR-AF+TG (Portugal)

Standard solution Cr (VI) 0 mg/l

Reagents/standard solutions/cleaner for analyzer

CY80CR-AF+TM (Canada (French))

Standard solution Cr (VI) 2,0 mg/l

Reagents/standard solutions/cleaner for analyzer

CY80CR-AF+TL (Turkey)

Standard solution Cr (VI) 1,0 mg/l

Reagents/standard solutions/cleaner for analyzer

CY80CR-AF+TM (Canada)

Standard solution Cr (VI) 2,0 mg/l

Reagents/standard solutions/cleaner for analyzer

CY80CR-AF+TG (Mexico)

Standard solution Cr (VI) 0 mg/l

Reagents/standard solutions/cleaner for analyzer

CY80CR-AF+TM (Poland)

Standard solution Cr (VI) 2,0 mg/l

Reagents/standard solutions/cleaner for analyzer

CY80CR-AF+TO (Norway)

Standard solution Cr (VI) 4,0 mg/l

Reagents/standard solutions/cleaner for analyzer

CY80CR-AF+TO (United Kingdom)

Standard solution Cr (VI) 4,0 mg/l

Reagents/standard solutions/cleaner for analyzer

CY80CR-AF+TV (Portugal)

Standard solution Cr (VI) 250 mg/l

Reagents/standard solutions/cleaner for analyzer

CY80CR-AF+TM (Czech Republic)

Standard solution Cr (VI) 2,0 mg/l

Reagents/standard solutions/cleaner for analyzer

CY80CR-AF+TO (Slovakia)

Standard solution Cr (VI) 4,0 mg/l

Reagents/standard solutions/cleaner for analyzer

CY800-AFx1 (India)

Cleaning solution for CA80CR

Reagents/standard solutions/cleaner for analyzer

CY80CR-AF+TM (Switzerland (Italian))

Standard solution Cr (VI) 2,0 mg/l

Reagents/standard solutions/cleaner for analyzer

CY80CR-AF+TG (European Union)

Standard solution Cr (VI) 0 mg/l

Reagents/standard solutions/cleaner for analyzer

CY800-AFx1 (Switzerland (Italian))

Cleaning solution for CA80CR

Reagents/standard solutions/cleaner for analyzer

CY80CR-AF+TO (Lithuania)

Standard solution Cr (VI) 4,0 mg/l

Reagents/standard solutions/cleaner for analyzer

CY800-AFx1 (Turkey)

Cleaning solution for CA80CR

Reagents/standard solutions/cleaner for analyzer

CY80CR-AF+SG (United Kingdom)

Reagent set (SG) for CA80CR

Reagents/standard solutions/cleaner for analyzer

CY80CR-AF+TL (Canada (French))

Standard solution Cr (VI) 1,0 mg/l

Reagents/standard solutions/cleaner for analyzer

CY80CR-AF+TG (Czech Republic)

Standard solution Cr (VI) 0 mg/l

Reagents/standard solutions/cleaner for analyzer

CY80CR-AF+TG (USA)

Standard solution Cr (VI) 0 mg/l

Reagents/standard solutions/cleaner for analyzer

CY80CR-AF+TV (China)

Standard solution Cr (VI) 250 mg/l

Reagents/standard solutions/cleaner for analyzer

CY80CR-AF+TO (France)

Standard solution Cr (VI) 4,0 mg/l

Reagents/standard solutions/cleaner for analyzer

CY80CR-AF+SG (Croatia)

Reagent set (SG) for CA80CR

Reagents/standard solutions/cleaner for analyzer

CY800-AFx1 (Mexico)

Cleaning solution for CA80CR

Reagents/standard solutions/cleaner for analyzer

CY80CR-AF+TO (Malta)

Standard solution Cr (VI) 4,0 mg/l

Reagents/standard solutions/cleaner for analyzer

CY80CR-AF+TO (Switzerland (French))

Standard solution Cr (VI) 4,0 mg/l

Reagents/standard solutions/cleaner for analyzer

CY80CR-AF+SG (South Africa)

Reagent set (SG) for CA80CR

Reagents/standard solutions/cleaner for analyzer

CY80CR-AF+TO (Russia)

Standard solution Cr (VI) 4,0 mg/l

Reagents/standard solutions/cleaner for analyzer

CY80CR-AF+TV (Australia)

Standard solution Cr (VI) 250 mg/l

Reagents/standard solutions/cleaner for analyzer

CY80CR-AF+TV (USA)

Standard solution Cr (VI) 250 mg/l

Reagents/standard solutions/cleaner for analyzer

CY80CR-AF+TM (Australia)

Standard solution Cr (VI) 2,0 mg/l

Reagents/standard solutions/cleaner for analyzer

CY80CR-AF+TL (Australia)

Standard solution Cr (VI) 1,0 mg/l

Reagents/standard solutions/cleaner for analyzer

CY800-AFx1 (Poland)

Cleaning solution for CA80CR

Reagents/standard solutions/cleaner for analyzer

CY80CR-AF+TL (Estonia)

Standard solution Cr (VI) 1,0 mg/l

Reagents/standard solutions/cleaner for analyzer

CY80CR-AF+TO (Belgium (Dutch))

Standard solution Cr (VI) 4,0 mg/l

Reagents/standard solutions/cleaner for analyzer

CY80CR-AF+TG (Turkey)

Standard solution Cr (VI) 0 mg/l

Reagents/standard solutions/cleaner for analyzer

CY80CR-AF+TM (South Korea)

Standard solution Cr (VI) 2,0 mg/l

Reagents/standard solutions/cleaner for analyzer

CY80CR-AF+SG (South Korea)

Reagent set (SG) for CA80CR

Reagents/standard solutions/cleaner for analyzer

CY80CR-AF+TL (Germany)

Standard solution Cr (VI) 1,0 mg/l

Reagents/standard solutions/cleaner for analyzer

CY80CR-AF+TL (Spain)

Standard solution Cr (VI) 1,0 mg/l

Reagents/standard solutions/cleaner for analyzer

CY80CR-AF+TO (Romania)

Standard solution Cr (VI) 4,0 mg/l

Reagents/standard solutions/cleaner for analyzer

CY80CR-AF+TL (European Union)

Standard solution Cr (VI) 1,0 mg/l

Reagents/standard solutions/cleaner for analyzer

CY80CR-AF+TL (Canada)

Standard solution Cr (VI) 1,0 mg/l

Reagents/standard solutions/cleaner for analyzer

CY80CR-AF+TM (Italy)

Standard solution Cr (VI) 2,0 mg/l

Reagents/standard solutions/cleaner for analyzer

CY80CR-AF+TO (Mexico)

Standard solution Cr (VI) 4,0 mg/l

Reagents/standard solutions/cleaner for analyzer

CY80CR-AF+TV (France)

Standard solution Cr (VI) 250 mg/l

Reagents/standard solutions/cleaner for analyzer

CY80CR-AF+TG (Japan)

Standard solution Cr (VI) 0 mg/l

Reagents/standard solutions/cleaner for analyzer

CY80CR-AF+TG (Slovakia)

Standard solution Cr (VI) 0 mg/l

Reagents/standard solutions/cleaner for analyzer

CY80CR-AF+TV (Saudi Arabien)

Standard solution Cr (VI) 250 mg/l

Reagents/standard solutions/cleaner for analyzer

CY800-AFx1 (Slovenia)

Cleaning solution for CA80CR

Reagents/standard solutions/cleaner for analyzer

CY80CR-AF+TO (Germany)

Standard solution Cr (VI) 4,0 mg/l

Reagents/standard solutions/cleaner for analyzer

CY80CR-AF+TV (United Arab Emirates)

Standard solution Cr (VI) 250 mg/l

Reagents/standard solutions/cleaner for analyzer

CY80CR-AF+TL (Italy)

Standard solution Cr (VI) 1,0 mg/l

Reagents/standard solutions/cleaner for analyzer

CY80CR-AF+TL (France)

Standard solution Cr (VI) 1,0 mg/l

Reagents/standard solutions/cleaner for analyzer

CY80CR-AF+TV (Canada)

Standard solution Cr (VI) 250 mg/l

Reagents/standard solutions/cleaner for analyzer

CY80CR-AF+TV (Canada (French))

Standard solution Cr (VI) 250 mg/l

Reagents/standard solutions/cleaner for analyzer

CY80CR-AF+TO (European Union)

Standard solution Cr (VI) 4,0 mg/l

Reagents/standard solutions/cleaner for analyzer

CY80CR-AF+TG (United Arab Emirates)

Standard solution Cr (VI) 0 mg/l

Reagents/standard solutions/cleaner for analyzer

CY80CR-AF+SG (Canada (French))

Reagent set (SG) for CA80CR

Reagents/standard solutions/cleaner for analyzer

CY800-AFx1 (Latvia)

Cleaning solution for CA80CR

Reagents/standard solutions/cleaner for analyzer

CY80CR-AF+TO (Saudi Arabien)

Standard solution Cr (VI) 4,0 mg/l

Reagents/standard solutions/cleaner for analyzer

CY80CR-AF+TV (South Korea)

Standard solution Cr (VI) 250 mg/l

Reagents/standard solutions/cleaner for analyzer

CY80CR-AF+TM (Spain)

Standard solution Cr (VI) 2,0 mg/l

Reagents/standard solutions/cleaner for analyzer

CY800-AFx1 (Czech Republic)

Cleaning solution for CA80CR

Reagents/standard solutions/cleaner for analyzer

CY80CR-AF+TG (Saudi Arabien)

Standard solution Cr (VI) 0 mg/l

Reagents/standard solutions/cleaner for analyzer

CY80CR-AF+TV (Slovakia)

Standard solution Cr (VI) 250 mg/l

Reagents/standard solutions/cleaner for analyzer

CY80CR-AF+TM (Slovakia)

Standard solution Cr (VI) 2,0 mg/l

Reagents/standard solutions/cleaner for analyzer

CY80CR-AF+SG (Saudi Arabien)

Reagent set (SG) for CA80CR

Reagents/standard solutions/cleaner for analyzer

CY80CR-AF+TO (Australia)

Standard solution Cr (VI) 4,0 mg/l

Reagents/standard solutions/cleaner for analyzer

CY80CR-AF+TV (New Zealand)

Standard solution Cr (VI) 250 mg/l

Reagents/standard solutions/cleaner for analyzer

CY80CR-AF+TM (Romania)

Standard solution Cr (VI) 2,0 mg/l

Reagents/standard solutions/cleaner for analyzer

CY80CR-AF+TV (United Kingdom)

Standard solution Cr (VI) 250 mg/l

Reagents/standard solutions/cleaner for analyzer

CY80CR-AF+TM (Japan)

Standard solution Cr (VI) 2,0 mg/l

Reagents/standard solutions/cleaner for analyzer

CY80CR-AF+TG (Italy)

Standard solution Cr (VI) 0 mg/l

Reagents/standard solutions/cleaner for analyzer

CY80CR-AF+TO (Turkey)

Standard solution Cr (VI) 4,0 mg/l

Reagents/standard solutions/cleaner for analyzer

CY80CR-AF+TO (Italy)

Standard solution Cr (VI) 4,0 mg/l

Reagents/standard solutions/cleaner for analyzer

CY80CR-AF+SG (Estonia)

Reagent set (SG) for CA80CR

Reagents/standard solutions/cleaner for analyzer

CY800-AFx1 (Switzerland)

Cleaning solution for CA80CR

Reagents/standard solutions/cleaner for analyzer

CY800-AFx1 (Austria)

Cleaning solution for CA80CR

Reagents/standard solutions/cleaner for analyzer

CY80CR-AF+TG (Slovenia)

Standard solution Cr (VI) 0 mg/l

Reagents/standard solutions/cleaner for analyzer

CY80CR-AF+TL (Japan)

Standard solution Cr (VI) 1,0 mg/l

Reagents/standard solutions/cleaner for analyzer

CY80CR-AF+TG (Croatia)

Standard solution Cr (VI) 0 mg/l

Reagents/standard solutions/cleaner for analyzer

CY80CR-AF+TV (Lithuania)

Standard solution Cr (VI) 250 mg/l

Reagents/standard solutions/cleaner for analyzer

CY800-AFx1 (Canada)

Cleaning solution for CA80CR

Reagents/standard solutions/cleaner for analyzer

CY80CR-AF+TL (Ireland)

Standard solution Cr (VI) 1,0 mg/l

Reagents/standard solutions/cleaner for analyzer

CY800-AFx1 (Bulgaria)

Cleaning solution for CA80CR

Reagents/standard solutions/cleaner for analyzer

CY80CR-AF+TL (Bulgaria)

Standard solution Cr (VI) 1,0 mg/l

Reagents/standard solutions/cleaner for analyzer

CY80CR-AF+SG (Lithuania)

Reagent set (SG) for CA80CR

Reagents/standard solutions/cleaner for analyzer

CY80CR-AF+TG (Ukraine)

Standard solution Cr (VI) 0 mg/l

Reagents/standard solutions/cleaner for analyzer

CY80CR-AF+TG (United Kingdom)

Standard solution Cr (VI) 0 mg/l

Reagents/standard solutions/cleaner for analyzer

CY80CR-AF+SG (Bulgaria)

Reagent set (SG) for CA80CR

Reagents/standard solutions/cleaner for analyzer

CY80CR-AF+TM (Mexico)

Standard solution Cr (VI) 2,0 mg/l

Reagents/standard solutions/cleaner for analyzer

CY80CR-AF+TG (South Africa)

Standard solution Cr (VI) 0 mg/l

Reagents/standard solutions/cleaner for analyzer

CY80CR-AF+TL (Netherlands)

Standard solution Cr (VI) 1,0 mg/l

Reagents/standard solutions/cleaner for analyzer

CY80CR-AF+SG (France)

Reagent set (SG) for CA80CR

Reagents/standard solutions/cleaner for analyzer

CY80CR-AF+TM (France)

Standard solution Cr (VI) 2,0 mg/l

Reagents/standard solutions/cleaner for analyzer

CY80CR-AF+SG (Turkey)

Reagent set (SG) for CA80CR

Reagents/standard solutions/cleaner for analyzer

CY80CR-AF+TL (USA)

Standard solution Cr (VI) 1,0 mg/l

Reagents/standard solutions/cleaner for analyzer

CY80CR-AF+TL (United Arab Emirates)

Standard solution Cr (VI) 1,0 mg/l

Reagents/standard solutions/cleaner for analyzer

CY80CR-AF+TM (Portugal)

Standard solution Cr (VI) 2,0 mg/l

Reagents/standard solutions/cleaner for analyzer

CY80CR-AF+TO (Bulgaria)

Standard solution Cr (VI) 4,0 mg/l

Reagents/standard solutions/cleaner for analyzer

CY80CR-AF+TG (India)

Standard solution Cr (VI) 0 mg/l

Reagents/standard solutions/cleaner for analyzer

CY80CR-AF+TO (Canada (French))

Standard solution Cr (VI) 4,0 mg/l

Reagents/standard solutions/cleaner for analyzer

CY80CR-AF+TM (Russia)

Standard solution Cr (VI) 2,0 mg/l

Reagents/standard solutions/cleaner for analyzer

CY80CR-AF+TL (Lithuania)

Standard solution Cr (VI) 1,0 mg/l

Reagents/standard solutions/cleaner for analyzer

CY80CR-AF+SG (Latvia)

Reagent set (SG) for CA80CR

Reagents/standard solutions/cleaner for analyzer

CY800-AFx1 (France)

Cleaning solution for CA80CR

Reagents/standard solutions/cleaner for analyzer

CY80CR-AF+TL (United Arab Emirates)

Standard solution Cr (VI) 1,0 mg/l

Reagents/standard solutions/cleaner for analyzer

CY80CR-AF+TL (Slovenia)

Standard solution Cr (VI) 1,0 mg/l

Reagents/standard solutions/cleaner for analyzer

CY80CR-AF+TM (Austria)

Standard solution Cr (VI) 2,0 mg/l

Reagents/standard solutions/cleaner for analyzer

CY80CR-AF+TM (Croatia)

Standard solution Cr (VI) 2,0 mg/l

Reagents/standard solutions/cleaner for analyzer

CY80CR-AF+TM (Malta)

Standard solution Cr (VI) 2,0 mg/l

Reagents/standard solutions/cleaner for analyzer

CY80CR-AF+TL (Denmark)

Standard solution Cr (VI) 1,0 mg/l

Reagents/standard solutions/cleaner for analyzer

CY80CR-AF+TO (Poland)

Standard solution Cr (VI) 4,0 mg/l

Reagents/standard solutions/cleaner for analyzer

CY80CR-AF+SG (Switzerland (Italian))

Reagent set (SG) for CA80CR

Reagents/standard solutions/cleaner for analyzer

CY80CR-AF+TV (Italy)

Standard solution Cr (VI) 250 mg/l

Reagents/standard solutions/cleaner for analyzer

CY80CR-AF+TV (Sweden)

Standard solution Cr (VI) 250 mg/l

Reagents/standard solutions/cleaner for analyzer

CY80CR-AF+SG (Belgium)

Reagent set (SG) for CA80CR

Reagents/standard solutions/cleaner for analyzer

CY80CR-AF+TM (New Zealand)

Standard solution Cr (VI) 2,0 mg/l

Reagents/standard solutions/cleaner for analyzer

CY80CR-AF+TM (Germany)

Standard solution Cr (VI) 2,0 mg/l

Reagents/standard solutions/cleaner for analyzer

CY80CR-AF+TG (Poland)

Standard solution Cr (VI) 0 mg/l

Reagents/standard solutions/cleaner for analyzer

CY80CR-AF+SG (Ireland)

Reagent set (SG) for CA80CR

Reagents/standard solutions/cleaner for analyzer

CY80CR-AF+SG (Slovakia)

Reagent set (SG) for CA80CR

Reagents/standard solutions/cleaner for analyzer

CY80CR-AF+TV (United Arab Emirates)

Standard solution Cr (VI) 250 mg/l

Reagents/standard solutions/cleaner for analyzer

CY80CR-AF+TL (Greece)

Standard solution Cr (VI) 1,0 mg/l

Reagents/standard solutions/cleaner for analyzer

CY800-AFx1 (Lithuania)

Cleaning solution for CA80CR

Reagents/standard solutions/cleaner for analyzer

CY80CR-AF+TO (Spain)

Standard solution Cr (VI) 4,0 mg/l

Reagents/standard solutions/cleaner for analyzer

CY80CR-AF+SG (Czech Republic)

Reagent set (SG) for CA80CR

Reagents/standard solutions/cleaner for analyzer

CY80CR-AF+TG (Netherlands)

Standard solution Cr (VI) 0 mg/l

Reagents/standard solutions/cleaner for analyzer

CY80CR-AF+SG (Romania)

Reagent set (SG) for CA80CR

Reagents/standard solutions/cleaner for analyzer

CY80CR-AF+SG (Greece)

Reagent set (SG) for CA80CR

Reagents/standard solutions/cleaner for analyzer

CY80CR-AF+SG (Belgium (Dutch))

Reagent set (SG) for CA80CR

Reagents/standard solutions/cleaner for analyzer

CY800-AFx1 (United Arab Emirates)

Cleaning solution for CA80CR

Reagents/standard solutions/cleaner for analyzer

CY80CR-AF+TM (Denmark)

Standard solution Cr (VI) 2,0 mg/l

Reagents/standard solutions/cleaner for analyzer

CY80CR-AF+TV (Poland)

Standard solution Cr (VI) 250 mg/l

Reagents/standard solutions/cleaner for analyzer

CY80CR-AF+SG (United Arab Emirates)

Reagent set (SG) for CA80CR

Reagents/standard solutions/cleaner for analyzer

CY80CR-AF+TL (Switzerland (Italian))

Standard solution Cr (VI) 1,0 mg/l

Reagents/standard solutions/cleaner for analyzer

CY800-AFx1 (Portugal)

Cleaning solution for CA80CR

Reagents/standard solutions/cleaner for analyzer

CY80CR-AF+TV (Denmark)

Standard solution Cr (VI) 250 mg/l

Reagents/standard solutions/cleaner for analyzer

CY800-AFx1 (South Africa)

Cleaning solution for CA80CR

Reagents/standard solutions/cleaner for analyzer

CY80CR-AF+TG (Romania)

Standard solution Cr (VI) 0 mg/l

Reagents/standard solutions/cleaner for analyzer

CY80CR-AF+SG (Spain)

Reagent set (SG) for CA80CR

Reagents/standard solutions/cleaner for analyzer

CY80CR-AF+TM (Norway)

Standard solution Cr (VI) 2,0 mg/l

Reagents/standard solutions/cleaner for analyzer

CY80CR-AF+TL (Croatia)

Standard solution Cr (VI) 1,0 mg/l

Reagents/standard solutions/cleaner for analyzer

CY80CR-AF+TO (Croatia)

Standard solution Cr (VI) 4,0 mg/l

Reagents/standard solutions/cleaner for analyzer

CY80CR-AF+TM (India)

Standard solution Cr (VI) 2,0 mg/l

Reagents/standard solutions/cleaner for analyzer

CY80CR-AF+TV (Finland)

Standard solution Cr (VI) 250 mg/l

Reagents/standard solutions/cleaner for analyzer

CY80CR-AF+TV (Romania)

Standard solution Cr (VI) 250 mg/l

Reagents/standard solutions/cleaner for analyzer

CY80CR-AF+SG (India)

Reagent set (SG) for CA80CR

Reagents/standard solutions/cleaner for analyzer

CY80CR-AF+SG (Slovenia)

Reagent set (SG) for CA80CR

Reagents/standard solutions/cleaner for analyzer

CY80CR-AF+TV (Austria)

Standard solution Cr (VI) 250 mg/l

Reagents/standard solutions/cleaner for analyzer

CY800-AFx1 (Finland)

Cleaning solution for CA80CR

Reagents/standard solutions/cleaner for analyzer

CY80CR-AF+TM (Hungary)

Standard solution Cr (VI) 2,0 mg/l

Reagents/standard solutions/cleaner for analyzer

CY80CR-AF+TO (China)

Standard solution Cr (VI) 4,0 mg/l

Reagents/standard solutions/cleaner for analyzer

CY80CR-AF+TG (Switzerland (French))

Standard solution Cr (VI) 0 mg/l

Reagents/standard solutions/cleaner for analyzer

CY80CR-AF+TV (Ukraine)

Standard solution Cr (VI) 250 mg/l

Reagents/standard solutions/cleaner for analyzer

CY800-AFx1 (Romania)

Cleaning solution for CA80CR

Reagents/standard solutions/cleaner for analyzer

CY800-AFx1 (Belgium)

Cleaning solution for CA80CR

Reagents/standard solutions/cleaner for analyzer

CY80CR-AF+TO (Sweden)

Standard solution Cr (VI) 4,0 mg/l

Reagents/standard solutions/cleaner for analyzer

CY80CR-AF+TM (Greece)

Standard solution Cr (VI) 2,0 mg/l

Reagents/standard solutions/cleaner for analyzer

CY80CR-AF+TO (South Africa)

Standard solution Cr (VI) 4,0 mg/l

Reagents/standard solutions/cleaner for analyzer

CY80CR-AF+TG (France)

Standard solution Cr (VI) 0 mg/l

Reagents/standard solutions/cleaner for analyzer

CY80CR-AF+TG (Russia)

Standard solution Cr (VI) 0 mg/l

Reagents/standard solutions/cleaner for analyzer

CY80CR-AF+TV (Turkey)

Standard solution Cr (VI) 250 mg/l

Reagents/standard solutions/cleaner for analyzer

CY80CR-AF+TG (Spain)

Standard solution Cr (VI) 0 mg/l

Reagents/standard solutions/cleaner for analyzer

CY800-AFx1 (New Zealand)

Cleaning solution for CA80CR

Reagents/standard solutions/cleaner for analyzer

CY80CR-AF+TG (South Korea)

Standard solution Cr (VI) 0 mg/l

Reagents/standard solutions/cleaner for analyzer

CY80CR-AF+TG (Malta)

Standard solution Cr (VI) 0 mg/l

Reagents/standard solutions/cleaner for analyzer

CY80CR-AF+TG (China)

Standard solution Cr (VI) 0 mg/l

Reagents/standard solutions/cleaner for analyzer

CY800-AFx1 (Japan)

Cleaning solution for CA80CR

Reagents/standard solutions/cleaner for analyzer

CY80CR-AF+TL (Latvia)

Standard solution Cr (VI) 1,0 mg/l

Reagents/standard solutions/cleaner for analyzer

CY80CR-AF+TM (Saudi Arabien)

Standard solution Cr (VI) 2,0 mg/l

Reagents/standard solutions/cleaner for analyzer

CY800-AFx1 (Malta)

Cleaning solution for CA80CR

Reagents/standard solutions/cleaner for analyzer

CY80CR-AF+SG (Poland)

Reagent set (SG) for CA80CR

Reagents/standard solutions/cleaner for analyzer

CY80CR-AF+TL (Austria)

Standard solution Cr (VI) 1,0 mg/l

Reagents/standard solutions/cleaner for analyzer

CY80CR-AF+TM (Belgium (Dutch))

Standard solution Cr (VI) 2,0 mg/l

Reagents/standard solutions/cleaner for analyzer

CY800-AFx1 (Saudi Arabien)

Cleaning solution for CA80CR

Reagents/standard solutions/cleaner for analyzer

CY800-AFx1 (Estonia)

Cleaning solution for CA80CR

Reagents/standard solutions/cleaner for analyzer

CY800-AFx1 (Sweden)

Cleaning solution for CA80CR

Reagents/standard solutions/cleaner for analyzer

CY80CR-AF+TO (Canada)

Standard solution Cr (VI) 4,0 mg/l

Reagents/standard solutions/cleaner for analyzer

CY80CR-AF+TG (Denmark)

Standard solution Cr (VI) 0 mg/l

Reagents/standard solutions/cleaner for analyzer

CY800-AFx1 (Greece)

Cleaning solution for CA80CR

Reagents/standard solutions/cleaner for analyzer

CY80CR-AF+TV (Switzerland (French))

Standard solution Cr (VI) 250 mg/l

Reagents/standard solutions/cleaner for analyzer

CY80CR-AF+TG (Belgium (Dutch))

Standard solution Cr (VI) 0 mg/l

Reagents/standard solutions/cleaner for analyzer

CY800-AFx1 (Spain)

Cleaning solution for CA80CR

Reagents/standard solutions/cleaner for analyzer

CY800-AFx1 (Slovakia)

Cleaning solution for CA80CR

Reagents/standard solutions/cleaner for analyzer

CY80CR-AF+SG (Switzerland)

Reagent set (SG) for CA80CR

Reagents/standard solutions/cleaner for analyzer

CY800-AFx1 (Netherlands)

Cleaning solution for CA80CR

Reagents/standard solutions/cleaner for analyzer

CY80CR-AF+TV (Croatia)

Standard solution Cr (VI) 250 mg/l

Reagents/standard solutions/cleaner for analyzer

CY80CR-AF+TV (Slovenia)

Standard solution Cr (VI) 250 mg/l

Reagents/standard solutions/cleaner for analyzer

CY80CR-AF+TO (Japan)

Standard solution Cr (VI) 4,0 mg/l

Reagents/standard solutions/cleaner for analyzer

CY80CR-AF+SG (Russia)

Reagent set (SG) for CA80CR

Reagents/standard solutions/cleaner for analyzer

CY80CR-AF+TV (Greece)

Standard solution Cr (VI) 250 mg/l

Reagents/standard solutions/cleaner for analyzer

CY80CR-AF+TG (Australia)

Standard solution Cr (VI) 0 mg/l

Reagents/standard solutions/cleaner for analyzer

CY80CR-AF+SG (Mexico)

Reagent set (SG) for CA80CR

Reagents/standard solutions/cleaner for analyzer

CY800-AFx1 (Norway)

Cleaning solution for CA80CR

Reagents/standard solutions/cleaner for analyzer

CY800-AFx1 (Denmark)

Cleaning solution for CA80CR

Reagents/standard solutions/cleaner for analyzer

CY80CR-AF+TL (China)

Standard solution Cr (VI) 1,0 mg/l

Reagents/standard solutions/cleaner for analyzer

CY80CR-AF+TM (European Union)

Standard solution Cr (VI) 2,0 mg/l

Reagents/standard solutions/cleaner for analyzer

CY80CR-AF+SG (Finland)

Reagent set (SG) for CA80CR

Reagents/standard solutions/cleaner for analyzer

CY80CR-AF+TG (Belgium)

Standard solution Cr (VI) 0 mg/l

Reagents/standard solutions/cleaner for analyzer

CY80CR-AF+TL (United Kingdom)

Standard solution Cr (VI) 1,0 mg/l

Reagents/standard solutions/cleaner for analyzer

CY80CR-AF+TL (Poland)

Standard solution Cr (VI) 1,0 mg/l

Reagents/standard solutions/cleaner for analyzer

CY800-AFx1 (Switzerland (French))

Cleaning solution for CA80CR

Reagents/standard solutions/cleaner for analyzer

CY80CR-AF+TG (Switzerland)

Standard solution Cr (VI) 0 mg/l

Reagents/standard solutions/cleaner for analyzer

CY80CR-AF+TV (European Union)

Standard solution Cr (VI) 250 mg/l

Reagents/standard solutions/cleaner for analyzer

CY800-AFx1 (Italy)

Cleaning solution for CA80CR

Reagents/standard solutions/cleaner for analyzer

CY80CR-AF+TO (Ukraine)

Standard solution Cr (VI) 4,0 mg/l

Reagents/standard solutions/cleaner for analyzer

CY80CR-AF+TG (Estonia)

Standard solution Cr (VI) 0 mg/l

Reagents/standard solutions/cleaner for analyzer

CY80CR-AF+TV (Germany)

Standard solution Cr (VI) 250 mg/l

Reagents/standard solutions/cleaner for analyzer

CY80CR-AF+TO (Latvia)

Standard solution Cr (VI) 4,0 mg/l

Reagents/standard solutions/cleaner for analyzer

CY800-AFx1 (Australia)

Cleaning solution for CA80CR

Reagents/standard solutions/cleaner for analyzer

CY80CR-AF+TV (Switzerland)

Standard solution Cr (VI) 250 mg/l

Reagents/standard solutions/cleaner for analyzer

CY80CR-AF+SG (Malta)

Reagent set (SG) for CA80CR

Reagents/standard solutions/cleaner for analyzer

CY80CR-AF+SG (Ukraine)

Reagent set (SG) for CA80CR

Reagents/standard solutions/cleaner for analyzer

CY80CR-AF+TO (Greece)

Standard solution Cr (VI) 4,0 mg/l

Reagents/standard solutions/cleaner for analyzer

CY80CR-AF+TM (Lithuania)

Standard solution Cr (VI) 2,0 mg/l

Reagents/standard solutions/cleaner for analyzer

CY80CR-AF+SG (Germany)

Reagent set (SG) for CA80CR

Reagents/standard solutions/cleaner for analyzer

CY80CR-AF+TL (Czech Republic)

Standard solution Cr (VI) 1,0 mg/l

Reagents/standard solutions/cleaner for analyzer

CY80CR-AF+TM (Switzerland (French))

Standard solution Cr (VI) 2,0 mg/l

Reagents/standard solutions/cleaner for analyzer

CY80CR-AF+SG (New Zealand)

Reagent set (SG) for CA80CR

Reagents/standard solutions/cleaner for analyzer

CY800-AFx1 (Ukraine)

Cleaning solution for CA80CR

Reagents/standard solutions/cleaner for analyzer

CY80CR-AF+TG (Bulgaria)

Standard solution Cr (VI) 0 mg/l

Reagents/standard solutions/cleaner for analyzer

CY800-AFx1 (South Korea)

Cleaning solution for CA80CR

Reagents/standard solutions/cleaner for analyzer

CY800-AFx1 (Ireland)

Cleaning solution for CA80CR

Reagents/standard solutions/cleaner for analyzer

CY80CR-AF+TL (Hungary)

Standard solution Cr (VI) 1,0 mg/l

Reagents/standard solutions/cleaner for analyzer

CY80CR-AF+TM (Switzerland)

Standard solution Cr (VI) 2,0 mg/l

Reagents/standard solutions/cleaner for analyzer

CY80CR-AF+TG (Sweden)

Standard solution Cr (VI) 0 mg/l

Reagents/standard solutions/cleaner for analyzer

CY80CR-AF+SG (Denmark)

Reagent set (SG) for CA80CR

Reagents/standard solutions/cleaner for analyzer

New Analyzer Platform

Produkt kode: CA80CR-
erklæring nummer: EC_00116_02.15

Viomax, UV, Turbimax, TURBIDITY AND TOTAL SUSPENDED SOLIDS, TOCII, Stip-Scan, Stamolys, SPECTROMETER, OxyMax W, OxyMax H, New Analyzer Platform, Liquistation M, Liquiport, Isemax, Cell growth, Absorbance

Produkt kode: CAM74-, CAS40D-, CAS51D-, CAS74-, CAS80E-, CKF50-, CKI50-, COS22D-, COS31-, COS41-, COS51D-, COS61-, COS61D-, COS81D-, CSF48-, CSP44-, CUS50D-, CUS51D-, CUS52D-, CVF52-, CVI52-, OUSAF11-, OUSAF12-, OUSAF22-, OUSAF46-, OUSBT66-, OUSTF10-, CA70SI-, CA71AL-, CA71AM-, CA71CL-, CA71CR-, CA71CU-, CA71FE-, CA71HA-, CA71HY-, CA71MN-, CA71NO-, CA71PH-, CA71SI-, CA72TOC-, CA76NA-, CA80AL-, CA80AM-, CA80COD-, CA80CR-, CA80FE-, CA80HA-, CA80MN-, CA80NO-, CA80PH-, CA80SI-, CA80TN-, CA80TP-
Godkjenningsnummer: EAEC RU D-DE.AD07.B.01362/19

Viomax, UV, Turbimax, TURBIDITY AND TOTAL SUSPENDED SOLIDS, TOCII, Stip-Scan, Stamolys, SPECTROMETER, OxyMax W, OxyMax H, New Analyzer Platform, Liquistation M, Liquiport, Isemax, Cell growth, Absorbance

Produkt kode: CAS40D-, CAS51D-, CAS74-, CAS80E-, CKF50-, CKI50-, COS22D-, COS31-, COS41-, COS51D-, COS61-, COS61D-, COS81D-, CSF48-, CSP44-, CUS50D-, CUS51D-, CUS52D-, CVF52-, CVI52-, OUSAF11-, OUSAF12-, OUSAF21-, OUSAF22-, OUSAF46-, OUSBT66-, OUSTF10-, CAM74-, CA71AL-, CA71AM-, CA71CL-, CA71COD-, CA71CR-, CA71CU-, CA71FE-, CA71HA-, CA71HY-, CA71MN-, CA71NO-, CA71PH-, CA71SI-, CA72TOC-, CA76NA-, CA80AL-, CA80AM-, CA80COD-, CA80CR-, CA80FE-, CA80HA-, CA80MN-, CA80NO-, CA80PH-, CA80SI-, CA80TN-, CA80TP-
Region: Russia (Declaration of Conformity)
Godkjenningsnummer: EAEC D-DE.AD07.B.01363/19

New Analyzer Platform

Produkt kode: CA80AL-, CA80AM-, CA80COD-, CA80CR-, CA80FE-, CA80NO-, CA80PH-, CA80PHB-, CA80PHY-, CA80TP-
Region: International
Godkjenningsinstitusjon: PI, PROFIBUS International

ACCESSORIES: COLORIMETRIC, New Analyzer Platform

Produkt kode: CA80TP-, CA80TN-, CA80SI-, CA80PHY-, CA80PHB-, CA80PH-, CA80NO-, CA80NA-, CA80MN-, CA80HA-, CA80FE-, CA80CR-, CA80COD-, CA80AM-, CA80AL-
Software Version: 01.07

Liquiport, Liquistation M, New Analyzer Platform

Produkt kode: CA80COD-, CA80CR-, CA80FE-, CA80NO-, CA80PH-, CA80TP-, CSF48-, CSP44-
Region: Russia
Godkjenningsinstitusjon: Rosstandart
Godkjenningsnummer: DE.C.31.004.A_66676

New Analyzer Platform

Produkt kode: CA80AL-, CA80PH-, CA80CR-, CA80FE-, CA80NO-, CA80HA-, CA80AM-, CA80SI-, CA80MN-
Region: Canada, USA
Godkjenningsinstitusjon: CSA

Ordinary Location Product Safety
Tilbehør / reservedeler
Maintenance booklet CA80xx for download

Reagent / Standard solution CY80CR

Reagent set for CA80CR with long shelf life or respectively standard solution Contains dangerous goods

Cleaner CY800

Cleaning solution for Liquiline System CA80 Contains dangerous goods

CAV800 Maintenance kit Liquisystem CA8x

Kits with all maintenance parts for Liquiline System CA8x analyzers Content: dispensers, hoses, connectors, O-ring for the sample collector, filter mats. Optional: in-and outlet hoses(PA), Liquidmanager without motor (PT) or 2 sample collector beakers(PV)

Liquiline System CAC800

Sample hoses for Liquiline System with different lengths

CAC880 Inlet and Outlet hoses CA8x

Inlet and outlet hoses for Liquiline System CA80 in heated and unheated version.

Kit: display cable

CM442/CM444/CM448/CSF48

Nr

138

Order code

71218492

Kit CA8x: liquidmanager complete (1 pc)

Nr

138

Order code

71299073

Kit CA8x: liquidmanager without motor

Safety bottle plastic black 1l

Safety bottle plastic without colour 1l

Nr

146

Order code

71218507

Kit CA8x: Interface module CM44

Nr

146

Order code

71465480

Kit CA8x interface module vers. 2

For installation in CA80 with BASE2-E module, backplane V2 and control module V2. Firmware 01.08.00 or newer needed!

Additional Liquline modules

Kit: module 2DS

2x digital sensor CM442 / CM444 / CM448 / CSF48 CM442R / CM444R / CM448R

Kit: module DIO

2x digital in, 2x digital out CM442 / CM444 / CM448 / CSF48 CM442R / CM444R / CM448R

Kit : module AOR

2x Relay, 2x 0/4..20mA Out CM442 / CM444 / CM448 / CSF48 CM442R / CM444R / CM448R

Kit: module 2R

2x Relay CM442 / CM444 / CM448 / CSF48 CM442R / CM444R / CM448R

Kit: module 4R

4x Relay CM442 / CM444 / CM448 / CSF48

Kit: module 2AO

2x 0/4..20mA Out CM442 / CM444 / CM448 / CSF48 CM442R / CM444R / CM448R

Kit: module 4AO

4x 0/4..20mA Out CM442 / CM444 / CM448 / CSF48 CM442R / CM444R / CM448R

Kit: module 2AI

2x 0/4..20mA In CM442 / CM444 / CM448 / CSF48 CM442R / CM444R / CM448R

Kit: module ETH

(+Webserver) extendable via upgrade code to Modbus TCP or EtherNet/IP CM442/CM444/CM448/CSF48 CM442R/CM444R/CM448R

Kit: module 485

(+Webserver) Extendable via upgrade code to Profibus DP or Modbus RS485 or Modbus TCP or EtherNet/IP CM442/CM444/CM448/CSF48 CM442R/CM444R/CM448R

Kit: 1x set of terminals basic module

CM442/CM444/CM448/CSF48/CSP44

Kit: 1x set of terminals module AOR

CM442/CM444/CM448/CSF48

Kit: 1x set of terminals module 4R

CM442/CM444/CM448/CSF48

Kit: 1x set of terminals module 4AO

CM442/CM444/CM448/CSF48

Kit: 1x set of terminals module 2xAI,485

CM442/CM444/CM448/CSF48

Kit: 1x set of terminals module DIO

Upgrade kits digital communication

Upgrade Kit: Modul ETH + Modbus TCP

(+Webserver) CM442/CM444/CM448/CSF48 CM442R/CM444R/CM448R

Upgrade Kit: Modul ETH + EtherNet/IP

(+Webserver) CM442/CM444/CM448/CSF48 CM442R/CM444R/CM448R

Upgrade Kit: Modul 485 + Profibus DP

(+Webserver) CM442/CM444/CM448/CSF48 CM442R/CM444R/CM448R

Upgrade Kit: Modul 485 + Modbus RS485

(+Webserver) CM442/CM444/CM448/CSF48 CM442R/CM444R/CM448R

Activation codes for communication

Kit CA80xx: 1x digital sensor inputs

Kit CA80xx: 2x digital sensor inputs

Upgrade code: Webserver for BASE2

Upgr.code:EtherNet/IP+Webserver f. BASE2