iTEMP TMT180
Temperature head transmitter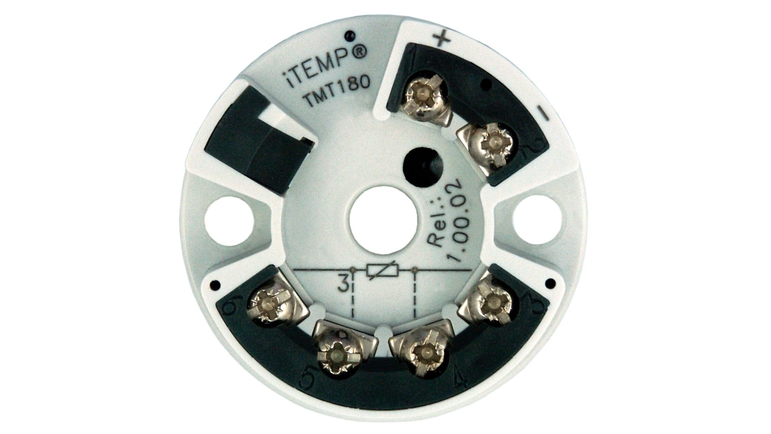 Transformation of the sensor signal into a stable and standardized output signal for all industries
The transmitter is designed for the transformation of an RTD Pt100 sensor signal. Various measurement ranges are configurable. The standardized output signal used for process measurement is a 4 to 20 mA signal. This means a fast, easy and cost-saving temperature measuring as well as reliable and precise measured values for for a wide range of non-ex industry applications.
Enkle produkter

Enkelt å velge, intallere og bruke
Tekniske egenskaper
Enkelhet
Standardprodukter

Pålitelige, robuste og lette å vedlikeholde
Tekniske egenskaper
Enkelhet
High- end produkter

Høyst funksjonelle og praktiske
Tekniske egenskaper
Enkelhet
Spesialprodukter

Designet for krevende applikasjoner
Tekniske egenskaper
Enkelhet
FLEX utvalget
Tekniske egenskaper
Enkelhet

Fundamental utvalg

Møter dine grunleggende målebehov

Tekniske egenskaper

Enkelhet

Lean utvalg

Håndter henkelt dine kjerneprosesser

Tekniske egenskaper

Enkelhet

Extended utvalg

Optimaliser prosessene dine med innovative teknologier

Tekniske egenskaper

Enkelhet

Xpert utvalg

Mestre de mest utfordrende applikasjonene dine

Tekniske egenskaper

Enkelhet
Spesifikasjonene kort oppsummert

Accuracy

Pt100, -200...650 °C (-328...1.202 °F) <= 0.2K / 0.08% span
Pt100, -50...250 °C (-58...482 °F) <= 0.1 K /0.08% span
Pt100, -50...250 °C (-58...482 °F) <= 0.2 K /0.08% span
Loading alternative products
Hurtigvalg
Velg ett av våre foreslåtte alternative
individuell konfigurasjon
Fortsett for å velge blant alle mulige alternativer
Ekstra komponenter

Fordeler

High accuracy in total ambient temperature range

Fault signal on sensor break or short circuit, presettable to NAMUR NE 43

EMC according to NAMUR NE 21, CE

Online configuration during measurement using SETUP connector

Customer specific measurement range...
Bruksområde

PC programmable (PCP) temperature head transmitter for converting a Pt100 input signal into a scalable 4 to 20 mA analog output signal

Input: Resistance thermometer (RTD) Pt100

Online configuration using PC with configuration kit and PC software
Dokumenter / håndbøker / programvare
Tilbehør / reservedeler
The unit is not repairable

DIN rail clip

according to IEC 60715 for temperature head transmitters.

Spare part set for TMT181/187/188/182

(4 screws, 6 springs, 10 spring rings)

Configuration kit TXU10-

for PC-programmable devices. set-up programme+interface cable for PC with USB-Port.

Readwin 2000 Operation + Read. software

Field housing TAF10

Application: E+H Head transmitter. Housing: Alu IP66, 100x100x60mm.
Suksesshistorier
Medisinske autoklaver

Ny sensorteknologi automatiserer rekalibreringer for å redusere fare ved batch-sterilisering. Les mer!
Standardisert temperaturmåling hos DMK i Tyskland

Lær av denne videoen hvordan DMK ("Deutsches Milchkontor GmbH") i Hohenwestedt, Tyskland var i stand til å redusere deres kostnader ved å standardisere seg på iTHERM TM411 hygienisk temperaturfølere.